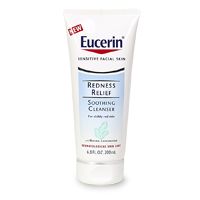 love it!

I've been using this cleanser for about a week, twice a day and have noticed an improvement in my rosacea and some of the acne spots. It doesn't over dry my skin like other cleansers but still gets my face feeling clean. I have oily but sensitive skin and so far really love this product.

Good stuff.

I like this cleanser a lot. Less than $10 at Walgreens. It didn't make my face feel tight or dry, but it does make my face feel CLEAN, gets rid of makeup or dirt or sweat or whatever else you might have lurking on your face. I am also very acne-prone and this stuff is super gentle and non-irritating. It's good for redness and rosecea. I don't know about "immediate" redness relief but I saw a reduc...read moretion in the red areas of my face after just a few days. If you have redness or sensitive skin, this is the cleanser for you.

I like it

I have been using this product for about 3 weeks, and it works really well for me. The formula does not irritate my sensitive skin or make my acne any worse. I use this product everyday, morning and night, and it has really helped my redness go away. The only thing I don't like is that even though some of my redness has gone away, not all of it has. The bottle says 4 weeks though, so 1 week to go before the 'real' results.
Back
to top