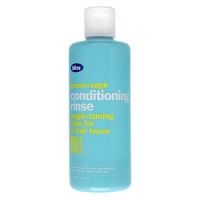 Editor's Rating & Review
The price tag would normally send women scrambling for drugstore alternatives like detangling Redken Clear Moisture Conditioner for normal hair. But assuming you get past that, expect a yin-yang effect: very light conditioning (many say too light) plus the heaviness of silicone and wheat protein, which will flatten fine hair (thick hair will be tangled but okay). Then there's the smell -- not so much a true citrus-herb yum-fest as a <i>deja vu</i> of woodsy summer camp.
Reviewed by the Total Beauty editorial team on 09/25/2007

How we review products
Forget it - save your money

This is not a good companion with the shampoo, which left my hair tangled. Did not get out the tangles, and as far as I am concerned it hurt my hair. Took both back.

Hmm..

it's really thick and leaves the hair dry and tangled

Not Really a Conditioner

I've tried both the shampoo and conditioner, and I have to say that while the shampoo is serviceable, the conditioner is not something I would use again. It is far too light for my dry/wavy hair. While I do not find the general smell to be offensive, it would not be a reason for me to buy it either. In general, after using this conditioner in combination with other hair products that I normally...read more use, I find that I have more frizz than usual, and my hair is harder to comb. In all, it is not something that I would buy again, even if it was far less expensive.
Back
to top