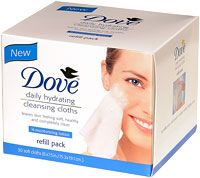 Editor's Rating & Review
Goodbye, plastic baggie of soap! These convenient wipes, which dispense like tissues from travel-size packs, will save you product-packing drama. The cleanser, built into paper-towel-size fishnet cloths, lathers with water. The sensitive-skin formula rinses away dirt and makeup without heavy fragrance or irritating texture. Skin is left clean, moisturized and ready to take on the stress of traveling. My only hope is that the cloths get smaller; I feel wasteful throwing such big ones away.
Reviewed by Charli on 09/25/2007

How we review products
Nice but wasteful

These are convenient but I thing it's wasteful

Not 100% makeup remover

These clothes are convenient, easy to use and carry in a travel/gym bag. Also, they do not dry up my face. BUT a big difference between this one and Olay's is cleansing power. Although the Dove's cloths are more affordable, they do not remove my makeup (especially eye makeup) 100%.

ToGo Cleanser

This is a great cleansing product to use when you travel or need a quick clean on the go. The cleanser cloths are so easy to use because they pick up so much dirt and can be used anywhere. They are pretty fragrant in a not so great way, but the cleansing is great and I really noticed how much dirt they removed, and it doesn't require scrubbing with soap and water.
Back
to top