Shakira Shakes Out Her Ripped Body in New Music Video
Posted on October 6, 2010, 9:23 AM
The beautiful Latina songstress goes "Loca" for her new single.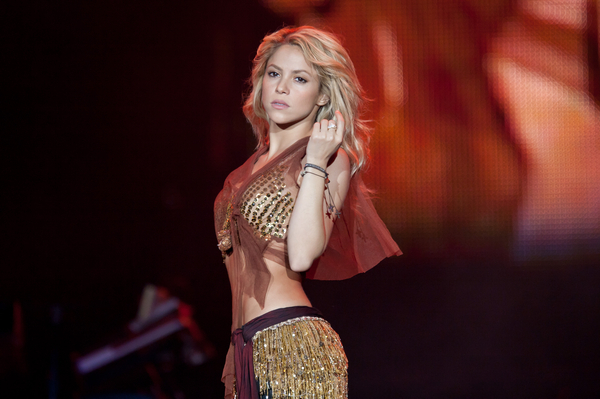 Shakira Shakes Out Her Ripped Body in New Music Video
The music video "Loca" likely epitomizes Shakira's crazy, spirited personality more than her previous music videos. Intentionally shot with hand-held cameras in a low production-style, "Loca" depicts Shakira roller skating and dancing all over the Spanish city of Barcelona; her rock-hard, tanned abs and toned
body
seductively revealed through a gold-sequined bikini top and matching disco pants. One scene, which involved the 33-year-old splashing with locals in the Pla de Palau fountain, almost earned the international pop star a fine because she hadn't obtained a permit before filming. Another illicit scene had Shakira cruising – sans helmet – on a motorcycle. Filmed in August, the video also features British rapper Dizzee Rascal, who shares a sultry dance scene on the beach with the famous hip shaker.
"Barcelona is one of my favorite cities and has become a second home to me," Shakira told PEACE FM online. "The video is just about having fun and being real in this amazing place with real people."
The song, a remake of El Cata's "Loca Con Su Tiguere," is the new single for Shakira's upcoming and seventh album, "Sale el Sol," (the sun comes out) set to release October 19.
Her latest album, Shakira told Billboard, would reflect influences from the Dominican Republic and Colombia. "I see it as having two currents; one is a lot about love and love experiences and emotions. And the other side of it is very joyful, and upbeat."
In September, Shakira also kicked off a U.S. tour and released her
perfume
, "S," a fragrance that offers notes of jasmine, sandalwood, vanilla, amber and resins. "My feeling is that personal care and beauty should be effortless and accessible for everyone," Shakira told Stylelist. "When you give someone a fragrance, you're giving them something of yourself. It's a gift of your essence."
Despite often being cast as Colombian, Shakira shares a heritage between Spanish (Catalan), Lebanese and Italian. The name 'Shakira,' in fact means "thankful" in Arabic. The singer-songwriter frequently credits her pop-licious dance moves to traditional Arabic belly dancing (something she said she learned by trying to flip a coin with her belly), an activity she's been practicing since age nine.
Something else we would credit belly dancing with? Shakira's Superwoman abs.
-- Sarah McClure