Best Dermatologists in New York City
Posted on September 17, 2010, 8:27 AM
Find a winning derm in Manhattan for clear skin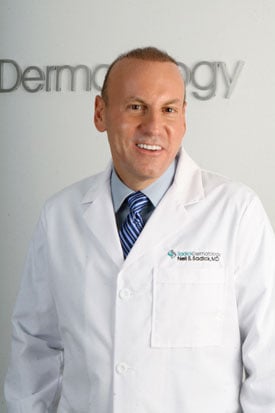 Dr. Neil Sadick
In a city that boasts as many derms as it does bodegas (well, not quite, but almost), finding quality care is crucial – and unfortunately, can be quiet difficult. Why we pride ourselves in this list, packing the city's greatest skin docs. These dermatologists go the extra mile to clear-up complexion conundrums, of course, but also know their way around the entire area of beautiful head-to-toe
body care
to keep Manhattan's chicest in tip-top shape. This crew of docs is considered the top dogs in the arena of dermatology. On the cutting edge of technology, check. In the know about skin care products to boot, indeed. The type who put patient needs first and foremost, you bet. Here, for yours truly, the most incredible derms in NYC, by specialty (in our opinion) no less:
For acne answers, book a consult with Dr. Hilary Reich, who's known as a blemish buster in the Big Apple (and beyond). A genius when it comes to clearing-up pores and keeping pesky whiteheads at bay, Dr. Reich is all the rage for helping to keep complexions even, flawless, and glowing. She's like a genie in a bottle, but for
skin care
solutions.
For all things needle-related (think: Botox), fillers (Juvaderm, for example), seek advice from Dr. Michele S. Green, an upper-east side dermatologist with an entire slew of skincare services to boot. Offering an array of injectable (and non invasive) options to keep skin taught, toned and youthrful, Dr. Green is a go-to for Manhattan's elite group of gals (and guys) alike.
For a full-body skin check, step into the office of skin-cancer prevention specialist, Dr. Linda K. Franks. With a gorgeous office in Gramercy Park, Dr. Franks helps to advise patients on better environmental activities and lifestyle approaches to keep skin sun damage free. An advocate for high levels of SPF and coverage 24-7, Dr. Franks is approachable, easy going and kind; she sees patients across the board – in terms of age and gender.
For a derm-inspired and administered peel, visit Dr. Ariel Ostad, who has published numerous studies on chemical peels – catapulting him as an expert in the arena. The office, which is conveniently located on Lexington Avenue, feels very spa-meets-doctor's-office: warm and comforting, inviting and unpretentious; the staff follows suit, treating patients to personal care that's unmet.
For some laser therapy, visit Dr. Neil Sadick on Park Avenue (or, on Long Island in Great Neck, if you prefer) at the Sadick Aesthetic Surgery and Dermatology center. Dr. Sadick has been a Manhattan staple for decades – though his technique and technology is constantly evolving and actually leading the trends on the east coast and beyond; he consults on massive beauty brands, including Dior. His team offers priceless experience and expertise in the land of lasers – head to toe, from hair removal to stretch mark minimization.