Amy Poehler Announces a Second Pregnancy, Shows off Healthy Skin
Posted on March 19, 2010, 1:54 PM
Amy Poehler and her husband, actor Will Arnett, have recently announced that they're expecting their second child together. Poehler is glowing, and seems to be enjoying her second pregnancy.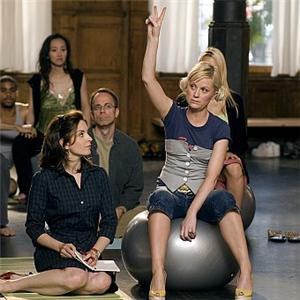 Amy Poehler Announces a Second Pregnancy, Shows off Healthy Skin
The pair of funny people are already the proud parents of son Archie, who's 16 months old.
"Any working mother will tell you it's a day-to-day thing," Poehler, pictured here with Tina Fey in "Baby Mama," told "TV Guide" of balancing motherhood with her role on the "NBC" show Parks and Recreation."You just do your best and try to make it work."
She also added that she and Fey often exchange texts and emails about nannies and formula.
We wonder if they ever trade pregnancy
skin care tips
, too? Both of these lovely ladies looked beautiful and radiant with
healthy skin
and shining hair throughout their pregnancies.
Fans of Poehler's popular show may be wondering how the series will handle the actress' pregnancy. According to "NJ.com," the show will speed up production in order to tape as many episodes as possible before Poehler takes her pregnancy leave.