Where to Get the Best Hair Cuts in Philadelphia
Posted on September 13, 2010, 10:12 AM
Wow them with a winning style from a Philly best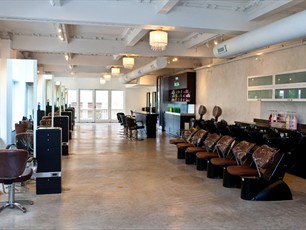 Alan Gold of Haig & Co
Move over, cheese steak. So long, cream cheese. Meet the newest reason to rush on a speed train (from NYC), bus or plane (for the rest of us folks) to be Philadelphia bound: a
hairstyle
and cut. We're not talking about a typical trim. Nope, these hair stylists we've snapped up make snipping an experience; cutting a cause for celebration; styling a serious path to success. So treat your tresses to some Pennsylvania lock loving, kudos to an appointment with one of these stylists:
With more than 20 years of experience cutting, styling and just doing hair, Alan Gold is a serious force in the
hair care
arena. His clients span the spectrum – from soccer moms to celebrities, style icons to sweet sixteeners – and Gold's approach is just as unique: he treats each client to a customized consult, asking questions about lifestyle, diet, habits and concerns to make the outcome killer, every time. Owning a chair at Haig & Co, Gold books up super fast , working six full days a week to glamorize the masses.
Nestled in the heart of Center City is Salon Vanity, a staple on Walnut Street for the past five years. Inside, find Edmondo Blando, the owner and cult favorite at Vanity, where client needs come first – always. Blando – and his staff -- travel frequently to learn new technique and stay abreast of trends and news. Especially skilled in blowouts, bangs and layers, Blando is fresh and fast, focused and fierce. Bonus: in response to client demand, Vanity is now open seven days a week, a rarity in the Philly scene.
Time out; enter, Tim of DNA Salon at Liberties Walk. A consistent cutter, Tim offers clients classic, chic styles that are attainable and easy to wear – but look like a million bucks. He considers his job to be an outlet of self expression, and we agree: you see Tim's passion in his work, which always features a personalized edge and sophisticated. Young but dedicated, Tim is a trusted stylist with Philadelphia flavor.
It's OK to talk fresh – if you're referring to the salon in South Hampton (burb of Philly), which boasts beautiful gal and sensational stylist, Kristen Faulkenberry. She's considerate and kind, warm and welcoming; she never forgets a client's face or name, which is why people continue to come back for a dose of Kristen every couple of months. She colors and cuts with precision and ease, another reason that her client roster is rather long. Bottom line: if you're looking for a fabulous cut from a girl-next-door, gal-pal type of stylist, ring up Kristen quick.