Dakota Fanning wears fresh beauty makeup at the New Moon premiere
Posted on November 19, 2009, 10:07 PM
This young starlet looked quite grown up and showed off fabulous style on the red carpet.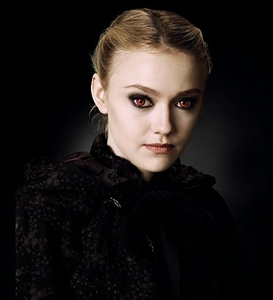 Ms. Fanning looked far from vampiric as she posed for photographs
While she may look incredibly sinister and gothic in "New Moon," Dakota Fanning appeared nothing like her character, Jane, an Italian vampire palace guard. Pictured here in costume, Ms. Fanning has incredibly pale makeup and dark eyeliner. At the "The Twilight Saga: New Moon", her makeup was very light and pretty, showing off her intense blue eyes.
People Magazine reports that the young actress wore a gown by the top designer Valentino. She also told the entertainment magazine that she "was excited" when putting her outfit together.
Fanning's face makeup was subtle and allowed her creamy skin tones to shine through. To obtain smooth skin, experts recommend using a gentle facial scrub a couple of times each week. This is a good skin care method because it removes extra impurities and dead skin.
The actress also appeared to be wearing dark eyeliner on her upper lids only. This aided her fresh look because it meant that her makeup remained light and youthful.
Trying liquid eyeliner for the first time? Be sure to use a steady hand and don't instantly draw one thick line. Instead, gently dot the color on, keeping the brush close to the lash line.