Holiday Makeup Ideas in Five Minutes or Less
Posted on November 24, 2009, 10:15 AM
For those getting ready for holiday soirée season, US Weekly is reporting that it's easy to have party-perfect makeup in just a few minutes.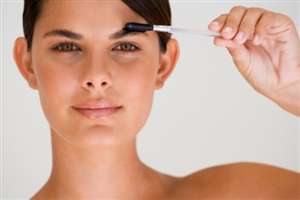 Applying two coats of mascara is best for a dramatic lash effect
First, smudge black shadow along the top and bottom of your eyelashes. You can always opt for black liner if you choose. Add a glimmery shadow and blend it into the liner. It's a good idea to add silver shadow to the corners of your eyes, as it will brighten up your whole face.
Before applying mascara, it's a good idea to curl the tops of your lashes and then apply at least two coats of lengthening mascara for longer and more dramatic lashes.
Apply a compact cream foundation to your cheeks, chin and nose and spread out evenly, blending it into your skin. Go over blemishes with an extra coat and blend into surrounding skin.
To add a little sparkle, trade blush for some shimmer powder that will highlight your cheekbones and give you an extra glow.
Finally, add a little bit of red lip color to accent your cheery smile. If your eyes are heavy on the makeup, it's a good idea to go with a tinted lip gloss rather than lipstick.