Jennifer Aniston Transforms Into Barbra Streisand - Hair and Makeup Tricks Turn the Friend into Funny Girl
Posted on August 4, 2010, 11:34 AM
The romantic comedy staple channels her idol in the September issue of Harper's Bazaar magazine.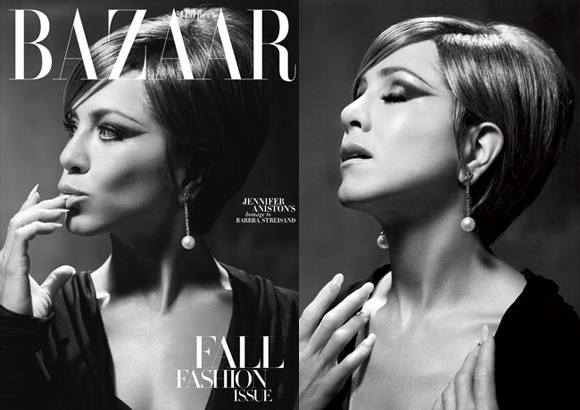 Photo Courtesy of: Bazaar Magazine
Jennifer Aniston has idolized Barbra Streisand since she was a child, and now, thanks to some dramatic eye
makeup
and Babs' iconic
hairstyle
, the 41-year-old actress has gotten the chance to morph into her for a photo shoot in the September issue of Harper's Bazaar magazine (on sale August 17).
"I've loved her since I was a kid, and all of a sudden there she is, and she's just like someone you've always known," Aniston tells the mag of the first time she met the diva at a New Year's eve party some years ago. "You know when you meet people you idolize and then you walk away from the conversation thinking, 'Well, that was a disappointment; they were kinder and more fabulous in my mind'? Well, she was wonderful, and you could talk to her about anything," the actress said, adding that when the clock struck twelve, both Streisand and her husband, James Brolin, leaned over to kiss her.
Aniston reveals that Chris McMillan, the man behind her famed mane, inspired the transformation. "He is, of course, hair obsessed," Jennifer explains of her friend and long time hairdresser, "and I'm a Barbie doll for him. So, whenever we'd see great pictures of Barbra or a movie, he'd be like, 'You have to do an homage to Barbra.'"
The homage began at a Los Angeles theater where many of Streisand's classics, like "People" and "The Way We Were" played in the background as first the iconic dramatic eye makeup was applied, then the signature chin-length bob (which, natch, was a wig. You didn't think she wanted to look like Babs ALL the time did you?) and then, as Aniston recalls, the piece de resistance -- those nails. "[When we added] the nails we were like, there she is!"
Of course, this isn't the first time Aniston, whose next movie, the sperm-donor comedy "The Switch," opposite Jason Bateman, opens August 20, has appeared on the cover of Harper's Bazaar. As Laura Brown, the features/special project editor at the magazine says, "We're thrilled to have [Jennifer]. Everybody loves her, she sells magazines, she has a certain type of allure."
For her part, Aniston says about the shoot, "I have no idea what people are going to think about it. Everybody has an opinion; it's just what people love to have. But that's okay. Art is so subjective, and people can react however they want."
What do YOU think of the homage?