Taylor Swift proves purple eyeshadow is back
Posted on November 10, 2009, 2:51 PM
Don't be afraid of plum eyeshadow this fall - here's how you can wear it like the stars!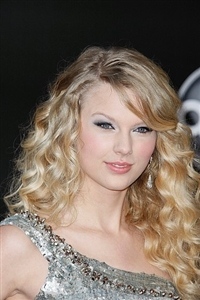 Taylor Swift tries out another beauty trend
Celebrities, like Taylor Swift, pictured here, and Audrina Patridge of The Hills were recently featured in People.com's style guide. What made their looks stand out? Both lovely ladies were photographed wearing rich purple eyeshadow - one of this season's hot makeup trends.
The entertainment news source revealed that Swift went for a lighter, more shimmery shade, while Patridge chose a deep, dark hue on her eyelids. If you're concerned about applying purple eyeshadow, here are some tips on how to find and apply the best color for you.
Make-UpUSA.com advises that you should select a plum eyeshadow based upon your eye color. For example, if you have Taylor Swift's pretty blue eyes, you'll look best in wamer, more brownish shades of purple. Couple this with some creamy or pinkish tones, the website advises, and your eyes will really stand out.
If your eyes are brown, the website suggests you try out rich purple shades, with bluer undertones to enhance your eye color.