The VIP (Very Impressive Product) Pick of the Week #8

Posted 03/18/11 at 09:58AM by Audrey Fine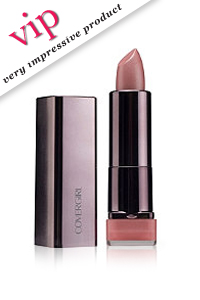 The Product
:
CoverGirl Lip Perfection Lipstick
The Price
: $6.99
The Promise
: "Glides on smooth and leaves lips feeling instantly moisturized with rich, bold color." It also purports to help improve lip condition thanks to its "Silk Therapy Complex."
The Real Deal
: As regular readers of this column know, I'm not a big fan of lipstick. As a card-carrying product-a-holic, however, I'm compelled to try even some things I'm not sure I'll like. Such was the case when I spotted the impossibly gorgeous Sofia Vergara in a CoverGirl ad wearing, as the copy told me, Lip Perfection Lipstick in "Smolder." Sold. I had that lip color in my sweaty little hand by the end of the work day.
The Upshot
: While I remain less-than-a-devotee of super dark lips, I can now say without hesitation that, thanks to Lip Perfection lipstick in general and the "Smolder" shade in particular, I now have a lipstick that I actually apply with increasing regularity. It
does
glide on smoothly and
does
leave my lips feeling moisturized in an instant. A fab product
and
truth in adverting! Will wonders never cease?
Of course if I (or you) ever plan to apply a darker lipstick, I'll have to be sure to adhere to my steadfast
lip color laws
or risk an embarrassing situation like poor
Haley Reinhart
(that "American Idol" contestant) did.
What're your thoughts on the topic? Oh, and which product would you like to nominate for VIP status?

Our Expert Guides