Why "American Idol's" Haley Reinhart Should Read This Column

Posted 03/17/11 at 04:23PM by Audrey Fine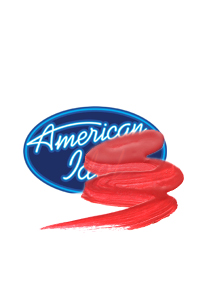 I'll admit it. These days I only watch "American Idol" to see what J. Lo's wearing (and to squirm as Steven Tyler leers at girls 1/3 his age).
But, last night, I was transfixed when 20-year-old Haley Reinhart sang. It wasn't her feeble rendition of Whitney Houston's "I'm Your Baby Tonight" that had me glued to my set (when
will
these wannabes learn not to cover the greats?), it was her red lipstick -- more specifically, it was her
smeared
red lipstick.
Yes, Haley was the latest public persona to fall victim to what I like to call "smudgerama" and found herself in the mortifying position of having Ryan Seacrest wiping her chin as the judges critiqued her somewhat stiff -- and, yes,
pitchy
performance. "I'm kissing the mic here," she said as Ryan attempted to get her face clean again.
Yikes. Talk about humiliating. Poor Haley, had she only adhered to my
lipstick laws
she would've been fine. I've admitted many times that
red lipstick scares me
, but recently found out that by following my laws on how not to smudge and by
properly choosing the shade and application technique
, it can be OK. (Though, truth be told, I still prefer to
rock a nude lip
.

Our Expert Guides