The V.I.P. (Very Impressive Product) Pick of the Week #45

Posted 04/27/12 at 08:48AM by Audrey Fine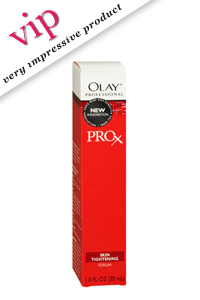 The Product
:
Olay Professional Pro-X Skin Tightening Serum
The Price
: $47 (but they often have coupons)
The Company Spiel
: "Pro-X Skin Tightening Serum is professionally designed to tighten skin, reducing the look of expression lines. Then, this unique formula hydrates to help increase skin's natural fullness for firmer skin."
The Real Deal
: The spiel's dead on. As Total Beauty reader Lisa2683 says in
her review
, "I used it after I washed my face and literally felt AND saw a difference with just the one use! My skin really did feel tighter and looked exactly the way it did when I was 16!" Lisa also gave it to her 50 year-old mom to try and now she says her mother "won't give it back!" Why? "Her skin looks so amazing and youthful. I apply it to my face and neck and my mom does the same and we couldn't be any more pleased with our results!" I concur wholeheartedly. This serum really is remarkable and does what it says it will. Talk about refreshing.
The Upshot
: It's not cheap, but, again, I see coupons in the P&G coupon section of my Sunday paper quite often and you can pretty much always find them online. Plus, the little bottle seems to last quite a while.
Want to know which other Olay product I love and use regularly? Find out
here
. (Hint: it works wonders on my pesky eye area.)

Our Expert Guides