Repeat After Me: Nude Makeup Is Not Scary

Posted 04/26/12 at 11:10AM by Charli Schuler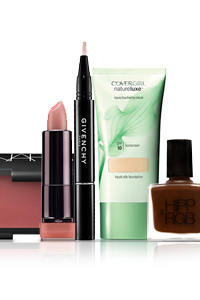 I am here to dispel a huge beauty myth. "No Makeup" makeup (or, if you prefer, "natural makeup") is
not
harder to apply than your regular, run o' the mill kind.
Nude makeup is quick, easy, and nearly goof-proof. Plus, it goes with just about anything and has the added benefit of helping turn up the dial on your own innate beauty without smothering it beneath some mask.
The key to pulling it off? Having the right products on hand and knowing how to use them. Here's a rundown of my must-haves along with some pro tips to get you started.
See my nude makeup essentials now
.

Our Expert Guides