My (Unsolicited) Skin Care Advice for the Latest Batch of Pregnant Celebrities

Posted 01/11/11 at 02:05PM by Audrey Fine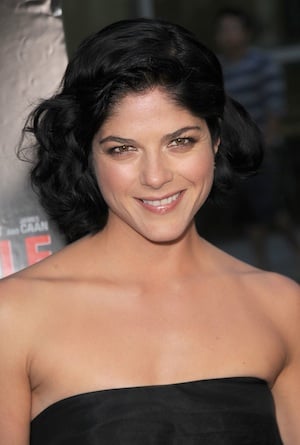 Is it me or does it seem like every day brings news of another celebrity pregnancy? (Don't even get me started on all the couplings/break ups -- I'm on deadline.)
In recent days, Alicia Silverstone, Selma Blair,
Kate Hudson
, Devon Aoki, Jennie Finch,
Natalie Portman
, Jane Krakowski, Tia Mowry,
Marion Cotillard
, Jewel,
Victoria Beckham
and
Jennifer Connelly
have all announced their pregnancies while David Schwimmer, Owen Wilson, Kevin James, Ian Ziering and Joey McIntyre are among the expectant celebrity dads.
Add those stars to the list of moms already well into their terms (including Mariah Carey,
Christina Applegate
, Autumn Reeser, Pink, Drea de Matteo, Toni Collette, Emma Bunton,
Penelope Cruz
and
Rachel Zoe
-- who's having a boy, by the way) and those who've just given birth like Alanis Morissette, Celine Dion,
Ali Larter
, Kelly Preston and Miranda Kerr, and we've got a veritable Hollywood baby boom!
And, of course, as with all new celeb moms before them, these pregnant stars will emerge from their L&D rooms ready for swimwear photo shoots. OK, I exaggerate a little (who, me?) but, it
is
aggravating how they all seem to just bounce back to their former skinny little selves. Sure there may very well be some nipping and tucking going on post-delivery, but from where I sit a lot of how you bounce back from
creating a human life in your very own body
has to do with how you treat that body (and your skin) while that baby's being made.
Naturally, there are eight gazillion (give or take a zillion) books about pre-natal diet and exercise so that you can pretty much find one to jibe with your way of thinking (the Fettucine Alfredo and lying on the couch methods worked wonders for me), but when it comes to caring for your skin -- to keep it smooth, supple and, here's the critical part,
stretch mark-free
-- there are but a few "tried and true" plans of attack and, sadly, even those don't work on everyone. ('Cause, do
stretch mark creams really work
?) But, as with everything else in life, being proactive beats sitting around and eating bonbons.
What worked for me and my poor stretched out skin when I was pregnant with twins and gained 96 pounds (Not a typo, ladies. I pretty much
doubled
myself while making those two little kids. It was worth it, of course, but got pretty hairy in the process.) was making sure that my skin was slathered in moisturizer 24/7 because I was sure that it would be easier to prevent marks from happening than it would be to reverse them once they'd reared their ugly heads. And, to that end, I used everything from olive oil (my mom swears by it) to the most bank-breaking products on the market before settling in to my hands down fave:
Mustela Stretch Marks Double Action
, $38.99. Unlike products containing retinoids that are verboten while with child, (like these
7 other pregnancy no-nos
), Mustela is completely safe to use during pregnancy and relies primarily on soy and avocado peptides to help skin withstand stretching. It also has a bunch of restructuring ingredients to help minimize recent stretch marks. The fact that it absorbs well and is hypoallergenic just serve to make it even more of a slam-dunk. Sure, it's not cheap but I was usually able to find "buy one/get one" type pricing at mom-to-be stores like Babies R Us. (Here's a list of loads o'
stretch mark reducers
for your reading pleasure.)
Naturally all these famous pregnant women will have teams of dermatologists at their beck and call (lucky them) but, honestly, that one simple step worked for me!
Do you have any go-to products that worked wonders for you and your burgeoning belly? We love to reveal insider secrets (like
tips for not letting a hectic travel schedule wreak havoc on our looks
) and love to learn new ones even more!

Our Expert Guides