Why Darker Hair Color Hues are Perfect for Winter

Posted 01/10/11 at 03:55PM by Audrey Fine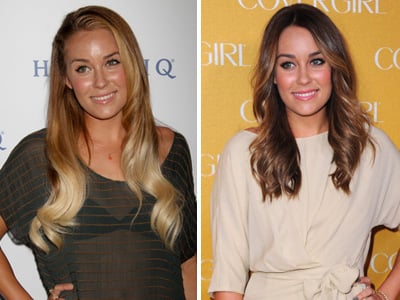 The other day, my 8 year-old son pointed out to me that furry animals' coats get darker in the wintertime. And that made me wonder...could that be the reason human types gravitate towards warmer shades of hair color when it's cold out? Clearly I'm no anthropologist, all I know is that darker hues make sense during the winter months -- if for no other reason than to give your hair a break from all the bleach! (Plus, without all that pesky sun -- and/or surf -- to contend with, colors will stay truer longer which is
always
a good thing.)
Just look at Lauren Conrad who, last week at the big CoverGirl 50th Anniversary bash, flaunted her newly darkened hair. It's not a drastic change or anything, just a subtle warming of her previously honey-toned hair.
Now, I'm not saying we should all jump on the dark hair bandwagon just 'cause LC did, but there
is
something to be said for mixing things up a bit. A little bit of hair color excitement might be just the thing you need to put a little spring in your (frozen) step. And, with awesome at-home hair color kits (like
Clairol Nice 'n Easy Perfect 10
, $13.99) a new, revamped you is easy
and affordable
!
But if you're going to take the plunge, there are a few things to keep in mind before diving in. Namely...
- Determine whether your skin tone is "cool" or "warm." Haven't the foggiest idea? This handy
Color Finder
will help.
- Keep things looking as natural (read: pretty) as possible by staying within two shades of your natural color.
- If you're covering gray, make sure you choose a box color that's designed to do that.
- Many experts recommend not washing your hair the day of or even two days before you color it. Seems hair's natural oils will help the color go on more evenly. (Can't hurt.)
- Change into clothes you don't care about. No matter how careful you intend to be, dye will inevitably wind up on something or another.
- Read the directions. Just because you did this once before in college doesn't mean you can skip to the front of the class. Each brand has different instructions that are meant to be followed -- just do it.
Do you think that now's the time to embrace a change? Will you go darker? How 'bout adding some fun pops of color with highlights? If you're nervous about choosing the right color, watch this
video
, it'll be like a virtual friend holding your hand and you'll feel more knowledgeable and secure in your decision at the end. Honest.

Our Expert Guides