My Tips for Not Letting a Hectic Travel Schedule Wreak Havoc on My Looks

Posted 12/01/10 at 01:50PM by Rebekah George

Although being a beauty correspondent (and host of our Total Look Video series) is a glamorous job, it doesn't come without
some
pitfalls. Just ask Rebekah George. Well, actually, you don't have to, because we did.
Here's how she stays looking so darn cute despite a super-hectic travel schedule.
Q:
You travel so much for work, how do you keep your skin from drying out on the plane?
A:
I never wear makeup on a plane. This way I can keep hydrating my skin. I do this by starting with a facial oil and then using a lotion. I know it sounds crazy. But I always use one with an SPF. UVA rays are really strong when you're 35,000 feet up in the air (makes sense, you are closer to the sun). Then, when we're close to landing I apply my makeup. This also helps your makeup look (and feel) fresh when you deplane.
Q:
Any secrets for fighting the swelling that can sometimes result from spending hours at 30,000 feet?
A:
I drink a ton of water. I'll buy a few large bottles before I get on the plane and fill them with powdered lemon, which helps me down it faster. I also tend to move around a lot on the plane (yeah, you wouldn't want to sit next to me). This helps get the blood going and helps to keep me from feeling like I'm swelling up.
Q:
When you're going to go straight from the airport to appear on camera, how do you banish under eye bags?
A:
Concealer is king (I mean queen!). I like
CLEAN Shower Fresh Anti-Bacterial Moisturizing Hand Cream
, $18. It helps get rid of the germs, but doesn't dry out the skin on your hands because it doubles as a hand cream.
As for the 3 oz limit, luckily, lots of beauty brands have caught on and created products that meet the limitations. So you can find everything from dry shampoo (like
Klorane ECO Gentle Dry Shampoo with Oat Milk
, $18) to mascara that will make it past security.
Q:
Have any foolproof tips for keeping your hair from turning into "bed head" after a long flight?
A:
The lovely recycled, dry plane air is challenging for my hair. It's usually flat by the time I land. So my secret is to keep it up and take it down just before I land. If I want a lot of curls and wave, I'll set it in pin curls before I fly (warning: you will get stopped at security). Otherwise, I will wrap it in a silk scarf to prevent friction when I rest my head against the seat back or wrap it in a very tight, high bun to keep it from falling flat and looking blah. As soon as a I hear "we are about to make our final decent," I head to the bathroom and freshen it up.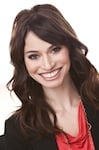 Our Expert Guides