Why I Decided to Switch Up My Eye Makeup Remover

Posted 11/30/10 at 04:35PM by Audrey Fine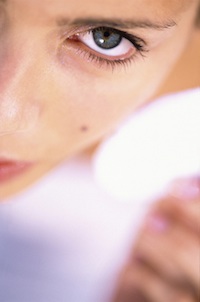 When I was 11, my mom bought me a bunch of skin products. A cleanser, a toner and a moisturizer --all of which were waiting for me when I got home from school one day. Then she sat me down and stressed the importance of having a good skin care regimen and taught me how to use each one.
Then, when I was 16 and (finally!) allowed to wear (some) cosmetics, she did the same thing with eye makeup remover.
Because those two events were so memorable to me, I wanted to do the same for my daughter. So, a couple of years ago we had the "complexion conversation," and just last weekend we discussed makeup remover. So my kid's 13 and wears eye makeup. Sue me. (Though my mom might very well beat you to it.)
The point of this post isn't to encourage you to do the same with your offspring, rather, it's to illustrate this fact that hit home for me, which is that I've been spending
way
too much money on eye makeup remover.
Seriously. I've been dropping 25 bucks on
Lancome Bi-Facil Double-Action Eye Makeup Remover
for
decades
just because it became sort of rote for me after a while. But, as I learned last week when I schooled the teen,
CoverGirl Clean Makeup Remover for Eyes & Lips
, $4.39 works just as well, is
much
less oily and costs about a fifth of the price of my old standby. Plus, it removes lipstick too!
Lesson learned. And don't think I'm not second-guessing a bunch of other products in my medicine cabinet as a result.
How 'bout you? What products do you spend a lot on that you don't really have to? And, are there some that are absolutely
worth
the splurge? Here's my
list of the outrageously expensive
products I buy that, to me anyway, are worth every last nickel.

Our Expert Guides