Spring Hairstyle Trend: The Fishtail Braid -- Learn How to Do It

Posted 03/10/11 at 07:29PM by Audrey Fine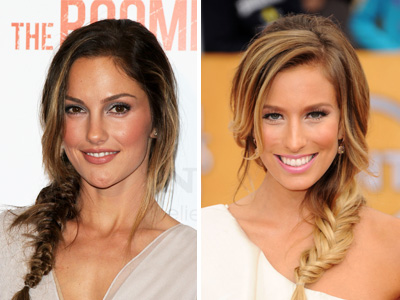 Call it what you will, fishtail, herringbone or fishbone, this complicated looking (yet easy to achieve) braid is downright cute -- as Minka Kelly and Renee Bargh demonstrate -- and the perfect hairstyle to accompany lots of spring's most wearable fashion trends (think hodgepodge pretty prints, trench dresses and military jackets).
Want to try it? Just copy these simple steps:
Step 1:
Mix volumizing mousse (try
Nexxus Mousse Plus Volumizing Foam Styler
, $16 and shine serum like
Prive Shine Serum
, $22 in your palms and apply to damp hair.
Step 2:
Quickly blow dry hair, using your fingers to enhance your natural texture.
Step 3:
If you have bangs, secure them back with a bobby pin; if not, just part hair down the middle. Create a low ponytail at the nape of your neck and fasten it with a hair elastic.
Step 4:
Divide the ponytail in to two equal halves. Hold both halves in one hand, keeping them separated with a finger.
Step 5:
Take a small section of hair (a quarter to a half-inch thick) from the outside of the right section and bring it over to join the left side.
Step 6:
Reverse your hands so you're holding both halves in your opposite hand, then bring a small section from the left side over to join the right.
Step 7:
Repeat steps five and six until you reach the ends of your hair and secure with an elastic.
And, you're done. Ooh, unless you want to get fancy, in which case you can wrap a small section of your unbraided hair around the elastic to cover it, using a bobby pin to secure. < br />
There you have it, the perfect carefree (yet pretty) spring style.
A little-to-no makeup look would be the perfect complement to a fishtail braid.
Learn how Total Look video host, Rebekah George does hers
.

Our Expert Guides