The VIP (Very Impressive Product) Pick of the Week #7

Posted 03/11/11 at 02:33PM by Audrey Fine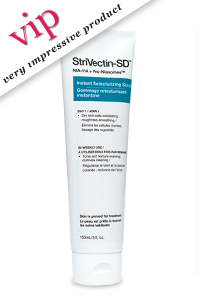 The Product
:
StriVectin SD Instant Retexturizing Scrub
The Price
: $45
The Promise
: "Removes surface impurities and dry skin cells to promote greater luminosity, smoothing of rough areas and improvements in skin texture and tone."
The Real Deal
: Full disclosure. I've been addicted to
Bliss Super Minty Soap 'n Scrub
, $30, for about as long as I can remember. The size of the grain is perfect and the smell is just minty enough to rouse me from a sleep-induced haze, yet not too minty to sting. That blue tube has long made showering a joy and I've often wished that a facial counterpart cousin existed. Then along came this StriVectin scrub and it was love all over again. It's designed to exfoliate the surface of the skin so it's better ready to absorb the active ingredients in the StriVectin anti-aging products and to that end, it has small-yet-satisfying scrubbing grains that go to work the minute you massage them onto your face. And, the deal sealer for me is the crisp and clean minty scent and the pleasant tingle. (Hey, I'll take my thrills where I can get them.)
The Upshot
: Because this scrub leaves my face feeling smooth and, yes, ready to receive whichever treatment I'm planning to apply next, and also feels great/smells terrific as I'm applying it, I'm 100 percent sold. Because it's not cheap I do use it sparingly but I will definitely buy it again. (And again.)
Are you a scrubaholic like me? What's your fave? Tell me and try to convince me to try it. (And, if you're curious, see what last week's
impressive product pick was
.)
Now that the skin on my face
and
body is smooth as can be, I'm ready to start prepping to show it to the world as spring approaches. I picked up some extremely helpful
shaving tips
and, learned even more about shaving my
bikini area, here
.

Our Expert Guides