My Red Lipstick Road Test, Gwen Stefani-Style

Posted 10/05/10 at 05:48PM by Total Beauty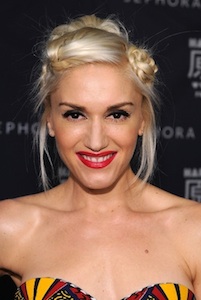 When asked why she prefers red lipstick, rocker mom Gwen Stefani recently said, "My husband really loves the red, so I keep the red because I want to keep the husband."
In my 20s, I wore a lot of red lipstick -- but I've shied away from it in my 30s. It just seems too ... bold, especially for everyday. And I would hate to look like a reject from the '80s "Addicted to Love" video. But Gwen's quote has made me reconsider. After 12 years of marriage, I certainly have to work at keeping things fresh. Maybe red lipstick would help me do just that? This was my thinking last week, anyway.
Which is why I went straight to the mall and bought a tube of Gwen's reported red lipstick of choice:
MAC lipstick in Russian Red
. Game on!
I applied the lipstick for the first time yesterday morning before work. I usually wear only blush, lipstick and mascara to the office, but my face looked naked next to those bright red lips. My solution? I stepped it up a bit by adding foundation and eyeliner, a la Gwen (
recreate Gwen Stefani's signature makeup look by watching this video
). I instantly felt more glam.
My 9-year-old son immediately noticed my transformation. He said, "Mommy, are you going to a party?" Well, if you consider sitting in a cubicle for eight hours a party, I guess the answer is ... yes.
My husband gave me a look and said, "Oh, you look nice this morning." He usually doesn't comment on my work attire, so maybe the lipstick
was
working? I'd love to have the heat Gwen and Gavin seem to have -- and if it comes by way of a tube of red lipstick, all the better.
When I got to work, the comments kept on coming. The highlight: our I.T. guy called me "Marilyn Monroe." It's amazing how a swipe of red lipstick can make you look and feel dressed up -- in an instant.
After work, I reapplied my fire-engine red confidence-booster and headed home. This time, I put a coat of powder over it -- apparently it's one of Gwen's secrets to sporting perfectly red lips, and it
did
help the color last longer.
So, what was my husband's final reaction, you ask? Well, he was
way
flirtier with me during dinner, and I felt sexier too. Looks like I might be wearing red lipstick more often. Gwen is definitely on to something.
By Julie Taylor

Our Expert Guides