How to Look Pretty for Football Sunday (Without Seeming Like You're Trying Too Hard)

Posted 01/18/12 at 06:14AM by Rebekah George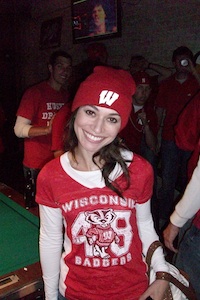 My boyfriend is a huge football fan. So, naturally, we spend all weekend watching games. He even has us flying off to different cities to sit in the stands (usually freezing our butts off). In fact, I've sat through so many games that I've actually started to
like
football.
Don't get me wrong -- I'm not about to wear a CheeseHead or sit around in sweats wearing no makeup. A girl can only bend so much, and my fashion and beauty instincts don't just fade away when things get less than girly.
With just a few days to go until we find out who's going to the Super Bowl, I figured that I'm not going to be the only female spending loads of time staring at grown men alternately crushing each other then patting one another's behinds. So, what do you say we make a pact to get in on the fun in a fashionable, pretty way? Here's what I recommend to get football-watching chic:
Tip No. 1
: Keep your hair simple. No fancy styles allowed. Go for carefree waves or a (deliberately) messy
undone bun
-- anything that's low maintenance. Futzing with your hair during the game is strictly verboten.
Tip No. 2
: Don't overdo it with the makeup. Remember that you're going to be hanging with a bunch of sports nuts and that the fare won't likely get any more glamorous than seven-layer dip. So keep your eyes and lips appropriately low key so that you're not competing with the television for your guy's glances.
Play up your looks, but in a subtle way. Go with some lengthening mascara (here's how I make my
pathetic eyelashes look long and lush
), a pop of color on your cheeks (the "Gossip Girl" clan
nails the pretty blush look every time
) and a swipe of a sedately colored gloss (this is one of those times to
shy away from dark or bold lipstick
).
Tip No. 3
: Dress appropriately. I'm not saying you need to dress in head-to-toe team colors (though it can look cute, see me in all my Bucky Badger glory at left), but
please
, keep things casual. Think jeans and a cute plaid shirt or cords and a black top. But for heaven's sake, leave the skintight minis and sky-high stilettos for another day and time.
Tip No. 4
: A subtle way to work makeup into your team spirit is to paint your nails in your team's colors. If you go for this option, keep your nails short (about 1/4 inch away from your nailbeds) for a more natural look.
Are you even going to be watching the games? Or are you and the girls going to use them as an excuse to catch a movie or do some shopping? (You could also indulge in an
at-home spa treatment
!)

Our Expert Guides