Hot Hairstyle Trend: The Undone Bun -- 5 Tips for Creating One

Posted 01/24/11 at 03:17PM by Rebekah George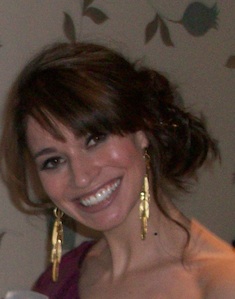 Buns are back in a big way -- thank you "Black Swan." But, they're not boring librarian or uptight ballerina buns. Instead they're modern "undone buns." Translation: Buns that are loosely swept up with soft pieces hanging out (and down). If you're on board with this trend, I've put together five rules to help you master the style. Practice now because they'll continue to be
the
hot hairstyle for spring.
Rule 1: Start with a pony
Secure hair into a low ponytail (in the center of your head or off to the side) and then twist the tail up to ear level and anchor with bobby pins. Let the ends stick out a bit for a really modern look.
Rule 2: Keep it loose
Buns look sexiest when they don't appear intentional. Aim for that I-just-threw-my-hair-up-in-two-seconds vibe. Achieve that by leaving a little lift at the top of your crown by not pulling your hair back too tightly.
Rule 3: Experiment with new tools
Goody Simple Styles Spin Pin
, $5.99 works almost like a screw to secure your bun in place and keep it there all day. I use this on bad hair days and it never fails to keep my hair looking great.
Rule 4: Don't strive for perfection
Modern buns look best when they're imperfect. So don't stress if your bun is not completely smooth and neatly pinned and clipped. (No one wants to look like it's prom night circa 1999.)
Rule 5: Spray it
Spritz your undone style with hairspray to help the look last. It may be imperfect, but you don't want it to fall flat.

Our Expert Guides