My Hair Color Revamp

Posted 04/26/11 at 02:57PM by Kristen Giordani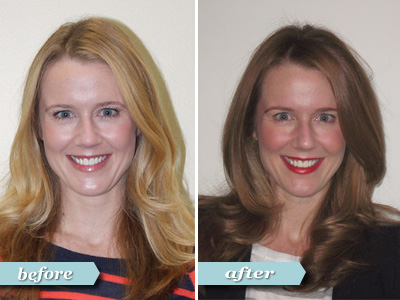 First off, thanks to the lovely ladies who commented on my "before" photo
in this post about my hair color blahs
and shared ideas and opinions about the direction I should take my color, I finally got around to booking an appointment. And though I can't say I chose to copy one of the celebs pictured in the previous post to a tee, I do think I captured the essence of some of them -- mainly Whitney Port and Amy Adams.
I actually went to the Warren-Tricomi Salon in Los Angeles with the intention of going Amy Adams red -- her hue was the one that many of you agreed would look most fabulous on me. But ... celebrity colorist Kaz Amor disagreed. He said I have too much pink in my cheeks (thanks Dad!) to pull off red. He did agree that a darker shade with hints of warmth would work, but he also wanted to keep bits of my natural blonde highlights -- the ones around my face -- intact. I agreed with him and the process began. And oh how quick and easy it was. Amor used an ammonia-free permanent hair color from L'Oreal Professional called INOA (a professional/salon-only hair color) to create the look, which he said would be much gentler on my hair and would add incredible shine. He was so right, and the smell didn't leave me gasping for air either. I was also in and out of the salon in an hour -- for those of you who, like I used to, spend hours in a salon getting a head full of highlights, you know how impressive this is.
So now it's judgment time ... what do you think about the new look? Amor did make it a bit darker than we had initially discussed because I have old highlights, which he said would cause the color to fade out a bit. I'm kinda digging it, but fear come summer I might be yearning for a sunnier hue.
If you like it, you could easily try this at home, especially if you don't have old highlights like I did -- that does make going darker a bit more challenging because you risk getting a hue that resembles a swamp, but otherwise it'd be easy. I'd pick up a box of
Clairol Nice 'n Easy Perfect 10 in Glintstantaneous (lightest golden brown) or Butterscotch Boom (dark blonde)
, $11.99.
You'll notice that I didn't cut even an inch off my length. Clearly I'm not as ballsy as my friend Audrey who did get a cropped cut after having you weigh in on which
celebrity pixie haircut
she should try. Maybe next year.

Our Expert Guides