I'm Getting a Pixie Haircut: Help Me Decide Which Celebrity Look I Should Take to My Stylist When I Go In for My Fall "Makeover"

Posted 08/10/10 at 07:24PM by Total Beauty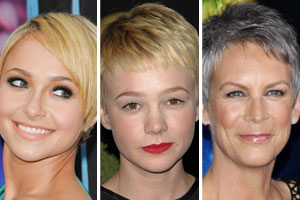 Despite the fact that I'm about as gamine as Shaquille O'Neal, I've decided to lop off these locks o' mine and get a pixie cut.
As someone who's spent the majority of her life hidden under a mop of long curls, this is not a decision I arrived at easily. Recent developments in the hair department however, have made me want to throw caution to the wind and go for it. You see, sigh, my formerly fabulous hair has started to thin.
No one's been able to tell me whether the cause is hormonal, stress-related or genetic, but all I know is that where I used to wrap my hair elastic around my ponytail twice, it now goes around three times with ease (and SLACK) -- it's freaking me out a bit.
Having ascertained through blood tests that, gratefully, it's not rooted in a medical disorder, I've decided to use this opportunity to totally shake up my look and just chop it all off.
And, while I'm sure it's going to be liberating, (just think of all the cash I'll save on conditioner) now I'm left with the painstaking decision as to
which
specific style I want.
Should I go the Hayden Panettiere route with a long bang? Or is Carey Mulligan's Peter Pan pixie the right one for me? Then, of course, there's Emma Watson's new super-short crop to consider as well as Jamie Lee Curtis' signature style.
Which look do you think I should go for? Not that you
know
me of course, but if you were going to get one, which would it be?

Our Expert Guides