Even as a Grown Up, I Covet Selena Gomez's Look

Posted 06/15/11 at 04:15AM by Audrey Fine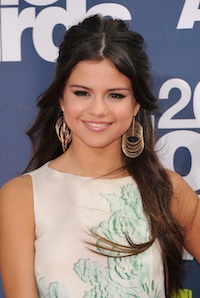 That Selena Gomez has been in the news an awful lot lately. Justin Bieber, this. His fans wanna kill her, that. And, let's not forget that whole "rushed to the hospital for being malnourished" drama. She's living that whole teen star craziness and it's so pervasive that even I, who am decidedly
not
a teen, know all about it.
Now, while that may lose me some serious street cred with you adult types, it's given me a lot to discuss with my nieces, random kids at movie theaters, and now with you too.
Yes. Today I'm going to not only admit that I know a lot about a certain "Wizards of Waverly Place" starlet, I'm going to cop to the fact that I so much liked her "MTV Movie Awards" look (yes, I watched) that I hunted down her makeup artist so I could get the full how-to.
So, cast whichever aspersions you may, but you have to admit that she really does look
quite
beautiful. And, hey, I'm sharing the step-by-step with you, so that's got to count for something, right?
Here's the lowdown from COVERGIRL makeup guru Karan Mitchell (love the fact that this entire look is so affordable, too):
"Selena wanted her makeup look to be fresh and flawless," says Mitchell, who's worked with tons of stars, including Jessica Simpson, Vanessa Hudgens and Ashley Green. "We went with a look that had a soft focus and pretty pink lips." And, here's how she achieved it:
Eyes
: "I selected the
CoverGirl Eye Enhancers 3 Kit Shadows in Shimmering Sands
, $3.75 for her shadow. I used the medium shade of the palette as all over the eye area. I then used the lightest shade on the inside corners and as a highlight under her brow bone."
"I then lined her upper and lower lashlines with
COVERGIRL Perfect Blend Eyeliner in Basic Black
, $4.25. To line the upper lashes I used
COVERGIRL LineExact Liquid Liner in Very Black
, $5, and drew a slight wing on the outer corners. I added a few individual lashes and used three coats of new COVERGIRL NatureLuxe Water Resistant Mousse Mascara in Black." (Psst. This mascara will be available in-store nationwide in July.)
Skin
: "For her flawless skin, I used
COVERGIRL NatureLuxe Silk Foundation in Oak
, $10. On her cheeks I applied
COVERGIRL & Olay Simply Ageless Sculpting Blush in Lush Berry
, $10 under the cheekbone and blended upward."
Lips
: "I then finished the look with
COVERGIRL LipPerfection Lipcolor in Sweetheart
, $6.99, a soft shimmering shade."
And, there, as they say, you have it. All affordable products. All easy to do steps. A win/win. You're welcome. Oh, and if you, like me are left wondering, "Hey, what about a makeup primer?" Here's the
answer to that question
.

Our Expert Guides