How to Copy the 6 Best Golden Globe Hair and Makeup Styles [SLIDESHOW]

Posted 01/19/12 at 06:49AM by Charli Schuler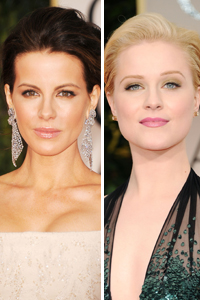 Unique, statuesque gowns reigned at the 69th annual Golden Globe Awards, which is why when it came to hair and makeup, less was refreshingly more.
For me, this year served as a great reminder of celebrity makeup artist Molly Stern's general (genius) rule: "If you are playing up a certain area of the face [such as the eyes], keep everything else fresh and natural." It's advice we've all heard before, but when it comes to getting all fancy, it's easy to forget!
As for hair, celebrity hairstylist Oscar Blandi recommends treating your hair "like you would your face." Translation: Don't over-wash it and be sure to use a moisturizing treatment the night before a big event for gorgeous, shiny results.
I've singled out the women I think should win awards for their various beauteous bits and give expert how-tos that'll help you recreate the looks. So go ahead, take a peek. Then get inspired for your next date, party, wedding, or awards ceremony!
See this year's best hair and makeup looks.

Our Expert Guides