Would You Sue a Salon for $50,000 if They Screwed Up Your Hair?

Posted by Sarah on May 11, 2009 at 04:05PM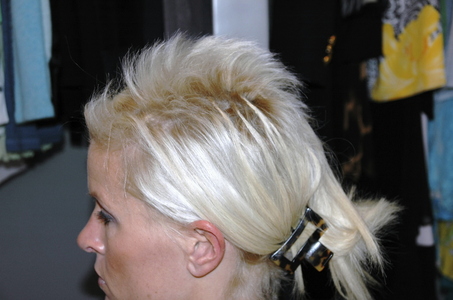 Time to play armchair jury, and have I got a doozy of a case for you. A woman in Oregon, who has been bleaching her hair for 25 years, is suing her salon for $50,000 because her hair started snapping off after her most recent bleaching session.
The woman, Sarah Jane Ward, blames an inept stylist and says she suffered humiliation, depression and had to pay for hair extensions. (She should have checked out this video on doing hair extensions at home, would have saved her some cash.)
The salon claims that Ward ignored a stylist's recommendations and damaged her hair with teasing and flat ironing (I wonder if she was using one of these flat irons?). They also say that since she didn't go bald or suffer a mental health crisis, they shouldn't be responsible.
While we can't give a verdict (we'll leave that up to the jury … and any of you who'd like to comment below), we can give some advice on keeping color-treated hair from turning into a disaster like this:
Avoid heat styling whenever you can and don't use scorching hot water in the shower.
When you do heat style, always use a product to protect hair (like one of these).
Stay out of the sun (or wear a hat when exposed to sun). And look for hair products that contain SPF and are formulated for color-treated hair.
Wash hair less -- it will keep hair from drying out and help color last longer. When you do shampoo, make sure it's with a quality product, like one of these. And always follow up with a good conditioner.
Leave a weekly deep conditioning treatment (these ones are fantastic) on strands for at least 15 minutes to allow it to reach down to your hair's cuticle.
Use a large-toothed comb in the shower while deep conditioning to distribute the product evenly through hair.
• Have fried hair? Rescue it with these tips.
• Need a quick cover-up for damaged hair? This video will show you what to do.
• Win our $5,000 Sephora shopping spree and you can get a lifetime's supply of deep conditioners.
Image: The Oregonian