Which American Cities Have the Most Body Tattoos? Find Out!

Posted by Kristen on August 2, 2010 at 07:33PM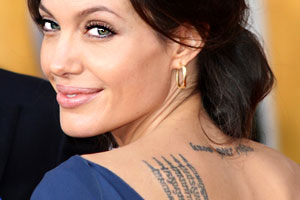 Whether you think tattoos are marks of beauty or big, permanent mistakes, between 14 and 25 percent of American adults have at least one tattoo, and many tatted celebs like Megan Fox and Angelina Jolie (try one of these celeb looks for women on the go) have been touted the most beautiful women in the world. So where do all these inked people live? Check out the U.S. cities with the most tattoos. Did your town make the list?
Home to some of the most popular tattooed celebs, like Angelina Jolie (see photos of celebrity tattoos here) and Kat Von D (of "LA Ink"), Los Angeles boasts about 150 tattoo parlors within 10 miles of the city center. (Heck, we counted 15 in one of the country's most famous tattoo "strips," Venice Beach, alone). Its surrounding area also plays host to some of the country's largest tattoo expos. See if LA holds the number one spot in the U.S. cities with the most plastic surgery list.
With about six tattoo shops per 100,000 people, Kansas City came up in several sites we looked at as another "tattoo-friendly" place to live -- not bad for the not-so-tattoo-friendly Midwest. See why this place is so crazy for ink.
With its gorgeous beaches, amazing climate and abundance of tiny-umbrella-topped frosty cocktails, Honolulu already looks like a great place to live (paradise, much?). But add the props it earned from us for best-looking people, and you've got one of the best places to live in the whole country. Now, it can add a large number of tattoo shops, 6.5 per 100,000 people, to its impressive list of attributes -- that is, if ink is your thing.
With seven tattoo parlors per 100,000 people in San Francisco alone (we didn't count nearby Oakland and college town Berkeley), San Francisco ranks super high on our list. The Bay Area was even mentioned (along with New York City, which didn't make our list) as the only American places in Matador Nights' "Five Destinations for the Tattooed Traveler," thanks to its status as an underground "haven" for tattoo lovers in the '60s. Interestingly enough, it also topped our most plastic surgery cities list -- see why.
Called "accepting" of heavily tattooed individuals, this increasingly hip college town and "Live Music Capital of the World" is visited by young, "artsy" tattooed people from all over, at least once a year, at its South by Southwest (SXSW) festival. Not to mention its Reggae Festival and Film Festival, among others. See what else makes this city one of the most tatted places in the U.S.
• To see the other end of the spectrum, check out the 8 U.S. cities with the least tattoos.
• Find out what the 13 worst hair cities are. Might be time to move…
• And while you're at it, take a peak at the 9 cities with the most youthful skin.
• Want in on a little beauty discount secret? See how to get great deals and exclusive offers on beauty products here.
• Keep up with the latest in beauty -- follow us on Twitter, add us on YouTube and friend us on Facebook.