How to Fake a Toned Body

Posted by Kristen on August 3, 2010 at 06:00PM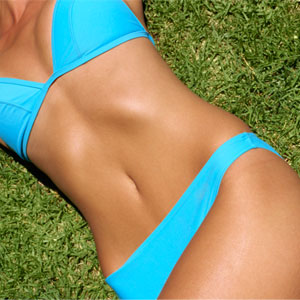 Your ass called. It wants you to stop and reconsider the next time you feel like wrapping that neon turtle-printed sarong you bought at the drugstore around your bikini clad bod. It was a failed purchase (unlike these best drugstore shampoos). Because you see, your ass knows it hasn't been perfect, but that doesn't mean you should punish it by wrapping it in rayon.
Why are we trying to strip you of your bathing suit security blanket? Because we scored secrets from celebrity fitness and lifestyle experts, stylists and faux tanning gurus -- big, juicy secrets that are going to hide your big, juicy ... well, you know. And we are going to share them with you (just like we shared the 14 secrets your hairstylist won't tell you).
With these 9 tips to faking a toned body you can fool everyone into thinking you didn't gorge last weekend on margaritas and taquitos. Oops, we mean so that you can fool everyone into thinking you are fit before you start seeing the results of your workout routine.
Tip 1: Get a flattering haircut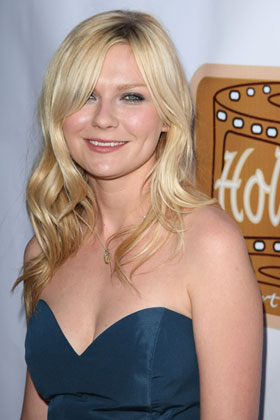 The most slimming length is one that falls below the collarbone and just above your bra strap, says celeb hairstylist Kate Seguin. "Adding layers and a side swept bang to focus on the eyes and cheek bones draws attention away from any extra weight or roundness near the chin-neck area as well," she adds. "Try to avoid one-length bobs that fall between the chin and above the collarbone," says Seguin. Her reason? They "draw attention to any extra weight or roundness."
Tip 2. Apply a dark tan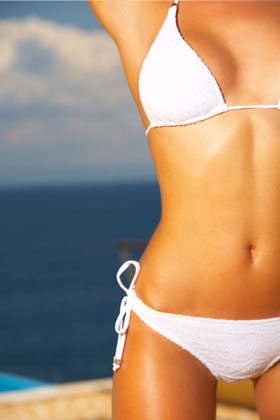 Faux tanner to stars like Kim Kardashian and Heidi Klum, Jimmy Coco says that wearing a darker tan is like wearing a darker dress: Darker is always more slimming. "A faux tan can camouflage or mask any skin flaws or body abnormalities which could give the appearance of looking lopsided, choppy or square," says Coco. Not only will a sunless tan make you look healthier in general by way of glowing skin and evened out complexion, it can also be customized to accentuate muscles (tanning more in specified areas and less in others), which "creates the illusion of a longer, leaner, look," explains Coco.
Tip 3. Slim down your face with makeup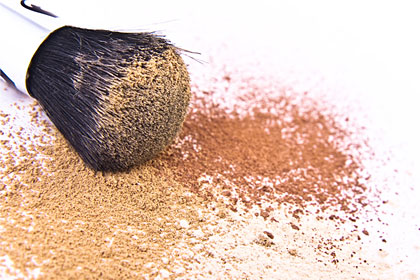 Makeup artist Landy Dean's face-thinning tricks:
• To create a more defined jaw line: Stand under an over head light and look straight into a mirror (don't lift your chin). Apply a foundation or powder that's one to two shades darker than your natural coloring to the under side of your jaw with a large powder brush, tracing the lines of your jawbone. Don't use bronzer for this as most contain shimmer that will standout and look unnatural.
• To create defined cheekbones: Use the same powder or switch to a bronzer to brush up the undersides of your cheekbones with a contouring brush. Use a slightly upward vertical stroke (as opposed to the horizontal stroke or circular stroke we use to apply blush to the apples of our cheeks) when you sweep under the roundest part of your cheeks.
• Bonus tip: If you have big, full cheeks, avoid wearing light shimmery blush -- it will make them look even fuller.
Tip 4. De-bloat Fast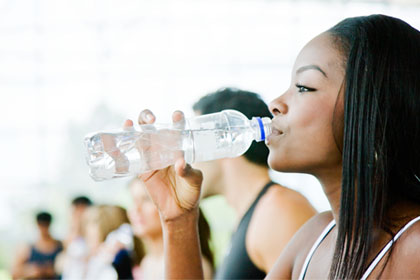 Celeb fitness and lifestyle expert Ashley Borden shares what to eat and drink to quickly de-bloat your body by the weekend:
• Take a digestive enzyme with each meal, which will work to help rid the body of bloat and help you digest your food. Borden says that enzymes like Digest Gold by Enzymedica, will help to get rid of any blockages in your digestive system making you feel less full and preventing gas buildup.
• Vegetables like dark leafy greens (broccoli, spinach, kale) and celery.
• Lean proteins like salmon, white fish and chicken, but don't add salt. Also, grill your meat, it's one of the leanest way to cook protein.
• Water, water and more water, drink 100 ounces to be safe. Add lemon to some of those ounces to flush sodium out of your system.
• Watermelon, oranges, grapefruit -- basically any fruit that has a high water content.
• Click here to see what foods to avoid with every fiber of your "I need to look hot this weekend" body.
Tip 5. Skip heavy weight lifting (for now)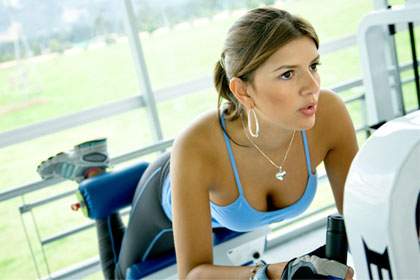 Borden suggests that if you're going to the beach tomorrow and want your thighs to look as slim as possible, you should actually skip your intense iron pumping session today. Why? Doing a heavy weight lifting session will swell your body temporarily as lactic acid builds up post workout, says Borden.
But that's not all, click here to see the rest of the 9 tips to faking a toned body.
• Now that you've got your body ready for summer, check out the these sexy summer makeup and hairstyle how-tos
• And see which beauty products will make your summer skin glow
• Get more body tips and healthy and beauty secrets here
• Want in on a little beauty discount secret? See how to get great deals and exclusive offers on beauty products here.
• Keep up with the latest in beauty -- follow us on Twitter, add us on YouTube and friend us on Facebook.