The Best Sunscreens For Facial Skin Care

Posted by Kristen on July 18, 2010 at 05:17PM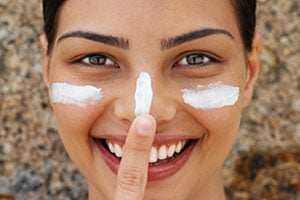 The sun's favorite season is officially here. And while most of us anticipate this time of the year by stocking up on tried and true body suntan lotions for the beach (see the best and worst sunblocks here) and stalking the runways and red carpets for the hottest summer makeup trends (see what makeup looks are so now), sunscreens made especially for the sensitive skin on your face often get left off the summer must-haves list. Let's put a stop to that right now.
If you find that regular SPF products (ones made for the body or just generic sunscreens) give you breakouts, irritate your face, or look or feel greasy or thick under makeup, you should swap that product for a sunscreen formulated to be worn on your face. Which one should you try? One of these highly rated SPFs for your face, of course. They've all been reader tested and approved and don't worry, these sunscreens actually live up to the hype as opposed to some of these most overly-hyped beauty products.
No. 11: Peter Thomas Roth Instant Mineral SPF 30, $30
TotalBeauty.com average reader rating: 8.3*
One reader claims she never leaves home without it and another woman insists, it is the "best new innovative product." See why other readers rave about this brush on sunscreen.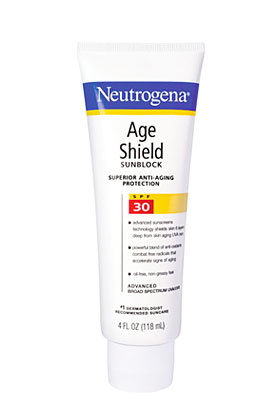 No. 10: Neutrogena Norwegian Formula Age Shield Sunblock, $9.99
TotalBeauty.com average reader rating: 8.7*
Readers call this face sunscreen a "must-use sunblock for mature skin," and the best product for oily skin. One woman claims it is "absolutely one of the best sunscreens I've ever used." Find out why here.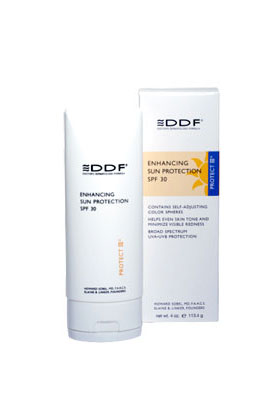 No. 9: DDF Enhancing Sun Protection SPF 30, $30
TotalBeauty.com average reader rating: 8.7*
Readers love this one because they say it is "like a tinted moisturizer. Goes on easily, lasts all day, doesn't get shiny and evens skin tone." It also doesn't feel greasy on the face and you can still tan through it, "but just enough to get some Vitamin D in you," says one enthusiast. See why else one woman claims she has been looking for this product forever.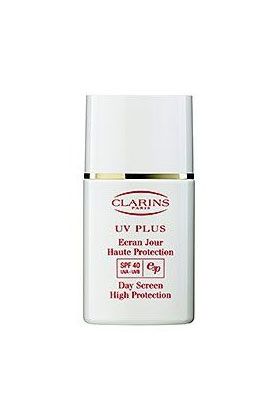 No. 8: Clarins UV Plus Day Screen SPF 40, $42
TotalBeauty.com average reader rating: 9*
Reviewers go nuts for this sunscreen because "it goes on smooth, leaves a great finish for makeup application and no negative side effects," they claim. One reader says this product is her saving grace: "I love how it instantly absorbs into the skin and makeup goes on flawlessly. No sticky or weird smell either. I'm hooked and everyone should try it." Check out why this sunscreen is the best for vacationers.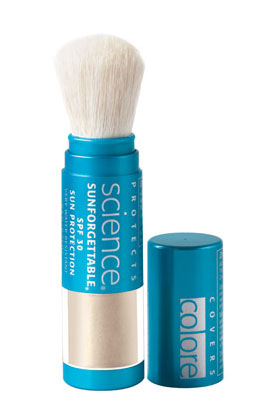 No. 7: Colorescience Pro Sunforgettable Brush SPF 30, $50
TotalBeauty.com average reader rating: 9.1*
Reviewers love how easily they can dust this powder SPF over their makeup. One woman says, "I really like this product as an alternative to greasy-feeling sunscreen. It's a great way to protect your skin and still look good." Another agrees that it's a "great alternative to goopy sunblocks." This product is a total "purse staple," enthuses one reader. See why the minerals in this sunscreen make all the difference.
See which facial sunscreen topped the list -- here.