Psst! Want a Peek Into Michelle Obama's Beauty Routine?

Posted by Sarah on January 21, 2009 at 04:11PM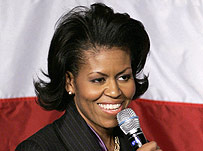 We're loving our new first lady's look -- chic but accessible. So accessible, you could look like her by following these quick tips. Want the ultimate perfect bob and glowing, acne-free skin like this? We're here to help.
• Not an Obama fan? Check out other women in Washington.
• Get more quick and easy hairstyling tips here.