Oscar Celebrity Hairstyle Predictions

Posted by Anna on February 24, 2011 at 03:00PM

I don't have much control over a lot of things in life, therefore, it makes sense I would want to make Oscar hairstyle predictions for this year's ceremony, right? Right.
Not only does it give me a false sense of power to dictate which celebrities should wear which hairstyles (don't worry, I'm not suggesting any of these), it's pretty much the most fun I've ever had (don't judge, we all get our kicks somehow). And while I was hit and miss with some of my predictions for last year's "Academy Awards," I think I (with the help of Photoshop) really nailed it this year.
Nicole Kidman
Since this isn't Nicole's first time in the big leagues, I think she should mix things up with a modern faux-bob. It's fresh, youthful yet sophisticated, and would be a nice change from her usual hair-down style.
Original hairstyle seen on: Amy Adams
Sandra Bullock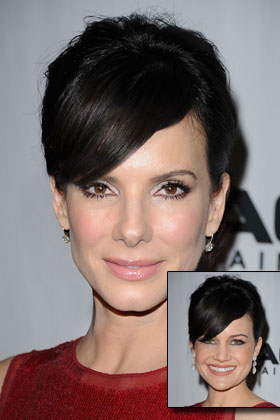 Last year's Oscar winner for Best Actress has been wearing fringe recently (much to our and many other critics' dismay), so I predict that she will have grown the bangs out a bit and will therefore wear them long, side-swept and paired with an updo.
Original hairstyle seen on: Carla Gugino
Mila Kunis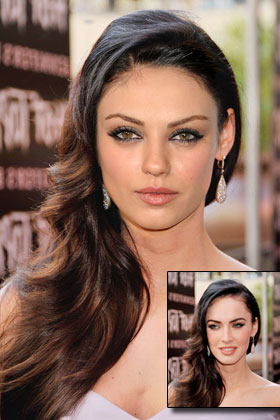 While her character from "Black Swan" wore a ballerina bun, I suspect she will go for a sultry, glamorous look -- think a deep side part and movie star waves.
Original hairstyle seen on: Megan Fox
Natalie Portman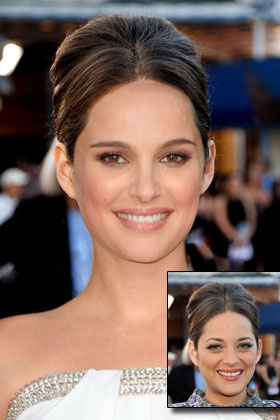 Perhaps the most anticipated look of the night would be Portman's, as she is the favorite to win Best Actress for her role in "Black Swan." And what belle of the ball wouldn't look chic in a classic retro-inspired updo like this one stolen from a previous Oscar winner?
Original hairstyle seen on: Marion Cotillard
Claire Danes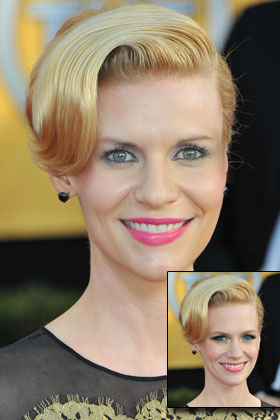 Danes always dazzles and I expect no less from her come Sunday. I would love to see her sweep her blonde hair up into a stylish wave for a more daring overall look.
Original hairstyle seen on: January Jones
Hilary Swank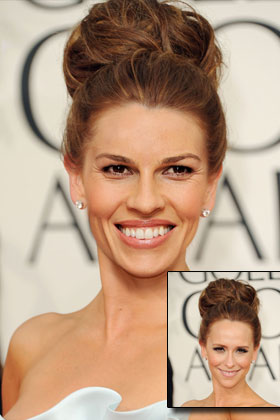 My prediction for Swank's hairstyle? A voluminous chignon that will give her whole look a soft, feminine finish. I just love this classic, no-fail style.
Original hairstyle seen on: Jennifer Love Hewitt
What do you think? Am I on target?