Makeup Gets Interactive: Social Networks, Virtual Makeovers, and More

Posted by Kristal on May 26, 2011 at 02:38PM

With the rise of social networks and online communities, it was only a matter of time before the beauty brands got in on the game. In the past month, a slew of new beauty websites have launched that allow you to virtually play with their products or let your Facebook friends "like" your beauty photos for a chance to win prizes.
NARS just released a new book called "Makeup Your Mind: Express Yourself," by Founder and Creative Director François Nars. They call it the ultimate beauty manual, showing real men and women of all ages and ethnicities and it even goes into the details of makeup-application instruction with "before" and "after" pictures and diagrams. In conjunction with the book release, they just set up the NARSissists movement on makeupyourmind.com.
On the page, you'll get a step-by-step guide on how to recreate 12 beautiful looks; then it's up to you to try out the products to get the look. After you've recreated your favorite makeup look, "NARSissists" can log in via Facebook and upload their picture to the site. Once friends and family have voted on your pics, by giving them "hearts" and "likes," you're entered for a chance to win some pretty awesome sounding prizes.
The user with the most "hearts" by September 1, 2011, will win the grand prize: a trip for two to New York City to join NARS backstage at Fashion Week in February 2012!
And for those that just want the most information on their favorite brands, there are new insider-only type sites like Chanel's Chanel Makeup Confidential. On the new site, hardcore beauty junkies can find backstage beauty looks, behind-the-scenes video content, how-tos on this season's hottest looks, and an interview with their head honcho, Creative Director of Chanel Makeup Peter Philips. And of course, you can share it all with your Facebook friends to get their feedback on products and new looks.
While this is a cool way to get your social network involved in makeup, I prefer the kinds that let you digitally try out their products. Strivectin released an anti-aging virtual tool website, where you can upload a photo of yourself to see how using their products will work after just 8 weeks. When seeing how the photos change, you can focus on just the eyes and crow's feet, or around laugh lines. The tool is totally customizable to show just how their different products will work on your face and problem areas. I tried it out and while I'm only 24, it showed that their products could help with the very fine lines and bags developing under my eyes already. And really, isn't the key to anti-aging being proactive to delay lines to begin with?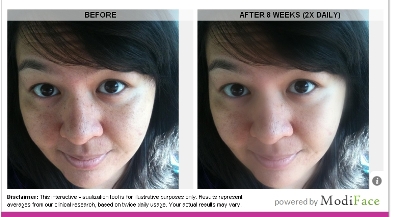 Our sister site Beauty Riot has my favorite virtual makeover tool that lets you try out different looks without the hassle of having to actually buy and apply makeup. Not sure how you'll look with a bob haircut or wearing that oh-so-trendy cream blush? Well, websites like this allow you to have all the fun without any of the hassle.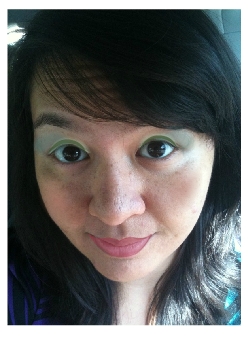 I tried a look I never would have tried in person and actually liked the results! The green eyeshadow would need a bit more blending to make it work, but I love the "plum raisin" lipstick color and sienna blush.
The future is now ladies! Are you game?