Is Your Wrinkle-Fighting Regimen Up To Snuff?

Posted by Kristen on April 1, 2010 at 05:34PM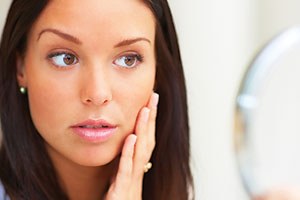 I'm kind of OCD -- in general -- but especially when it comes to taking care of my skin. I literally give myself a mini-facial each night before I go to bed by washing, toning and using anti-aging creams galore (like these winning anti-aging serums). A little pathetic, I know. I also try to resist the urge to pick and I stay out of the sun, and I even follow these steps to get a flawless face. But I still kinda freak out that I should be doing more to slow the inevitable process of aging.
But then I stumbled upon this quiz: Is Your Wrinkle-Fighting Routine Up to the Challenge? It's supposed to help target my aging skin concerns (crows feet -- eek!), analyze my current beauty habits (pretty damn good, IMHO), and suggest some affordable products that will -- hopefully -- help reduce signs of aging (phew). So I'm definitely gonna take it because it certainly couldn't hurt. You should take it too.
• Shhh… Here are some anti-aging secrets of top dermatologists.
• Is your city good for your complexion? See if your town made the Top 10 Best-Skin Cites list (it might be time to relocate …).
• Don't care -- yet -- about anti-aging stuff? Take this quiz to find your best smoky eye look.
•Wanna be in the beauty know? See how to get great deals and exclusive offers on beauty products here.
• Keep up with the latest in beauty -- follow us on Twitter, add us on YouTube and friend us on Facebook.