Beauty Product Spring Cleaning 101

Posted by Kristen on March 31, 2010 at 05:30PM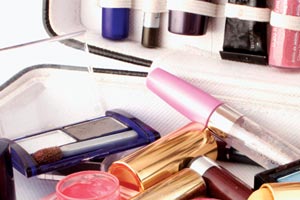 I'm pretty conservative when it comes to shopping, but it somehow usually backfires on me. Case in point: I don't buy shoes often, so when I do finally allow myself to shop for them, I'll buy two (or six!) pairs at once. The same is true for makeup -- I'll wear my mascara (see a list of The Best Mascaras. Ever. here) until it's dry and crusty, but when I finally hit the makeup counter I splurge on a whole new cosmetic wardrobe from my lashes to my lips (take this quiz to discover your best makeup colors).
So being the frugal gal that I am, I don't want to buy all new makeup and hair stuff this season (learn the art of beach-y hair -- a must try style of the season -- by watching this video), I want to know how to make my fall and winter beauty goods work for spring, and then maybe buy a few new key items. Luckily, a few beauty gurus decided to share some tips to help us do a little spring cleaning of our makeup bags. See what they recommend we reuse from fall and winter and which items are must-buys for spring. I'm kinda loving the Waking Up in Vegas putty gray nail color.
REPURPOSE: Dark Eyeshadow
Soften up the smoky eye look you've been wearing since September by "using brighter colors and pastels as your base," says Chang-Babaian. Learn exactly how to get the look here.
REPURPOSE: Dark Lip Color
You can keep wearing your much loved berry or red lipstick or gloss, but Chang-Babaian's trick is to "mix a hint of last season's dark lip glosses or lipsticks with clear or shimmery lip gloss to create just a tint of last fall's lips." See what we're talking about here.
BUY: UV Hair Protector
Protect your hair from the stresses of more sun, pool and beach time with a hair product containing UV shielding ingredients (try the sulfate-free, lightweight L'Oreal Paris EverPure UV Protection Spray, $8.99). See how to use this product.
BUY : Putty Gray Nail Polish
The flat, pale gray polish shades seen on the spring runways are a modern twist on the usual yawn-y spring pastels. Get the look with the Deborah Lippmann Nail Lacquer in Waking Up In Vegas, $16. See which Spice Girl digs this color.
• Need a pedicure to go with your new polish? Try this DIY pedi -- and look like you went to a salon.
• Need to master applying your spring makeup in a pinch? Find your ideal quick makeup routine with this quiz.
• Want in on a little beauty discount secret? See how to get great deals and exclusive offers on beauty products here.
• Keep up with the latest in beauty -- follow us on Twitter, add us on YouTube and friend us on Facebook.