How Vaseline Saved My Life

Posted by Kristen on April 10, 2008 at 04:42PM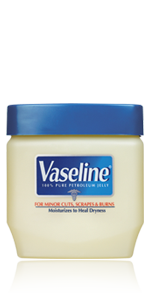 Well, sort of. See, recently I wrote The Right Skin Care for Your Age, and one of the products the dermatologist I interviewed recommended for the 50s category was Vaseline. I found it refreshing to have a derm suggest a product that was under $5 -- it doesn't happen often.
But a few ladies in my office were shocked to see the recommendation. I got comments like "I would never put that on my face," "Won't it clog pores?" and "It's so cheap!" And though I wouldn't regularly apply Vaseline all over my combination skin because it could potentially clog my pores, I did use it when I was skiing last weekend. My face was red, chapped and stinging from the brisk snowy weather in the mountains so I went straight to the grocery store to pick up a small tub. I slathered it on my chapped face before bed and by morning the redness and stinging was gone. It works; it really does.
Anyone else have success with other budget-friendly products?