How to Achieve a Flawless No-Makeup Makeup Look

Posted by Kristen on February 17, 2010 at 07:33PM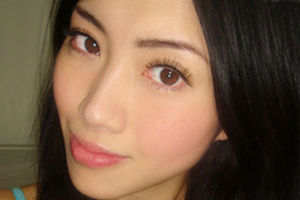 What's the best news you've heard lately? (If it involves Speidi or a Lindsay other than Vonn, you can stop reading right now.)
For me it's the fact that "no-makeup makeup" is a hot spring (and spring is getting closer!) trend.
Truth be told, I've never been much of a makeup maven. (Ironic, sure, given my current day job.) It's just that I'm really not good at applying it and still feel like I'm playing dress up when I have lipstick on.
That's the genius behind the no makeup look -- it's all about looking as natural as you can.
Now, I'm not saying that you should toss all your products and parade around bare faced -- there is a method involved here -- one my gorgeous beauty blogger friend (pictured) outlines here, step by step.
Step 1: Start by prepping your skin with an oil-free moisturizer. This will give a bit of slip so your makeup goes on smoother.
Step 2: Ditch your heavy foundation for a tinted moisturizer to even out your skin tone (if you have good skin). And, if you need more coverage, use a liquid foundation with a dewy finish. See recommended products here.
Step 3: Apply your foundation or tinted moisturizer with a sponge like Beautyblender, $19.95 in a stippling motion. Pay extra attention to the edges to make sure there are no visible lines. See how to finish off your skin here.
Learn what to do with your lips, cheeks and eyes by clicking here to read the rest of the steps. Or if you'd rather watch a full video how-to on creating this no makeup look, click here.
• Curious about other hot beauty trends for spring? See 'em here.
• And, master the art of applying a more obvious (though not garish!) makeup look in just five minutes by following these steps.