Get the Lowdown On the Best Wedding Hairstyles For Your Gown

Posted by Kristen on April 28, 2010 at 05:50PM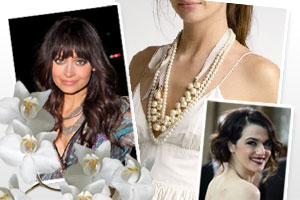 I, (Bride), take you (Groom), to be my (husband), to have and to hold from this day forward, for better or for worse … hair days (see how to salvage a bad hair day by watching this video) -- for richer, for poorer, blah, blah, blah …
Vow not to have a bad hair day on your big day by finding the best hairstyles for your wedding gown. Check out expert advice from celeb hairstylist Ange Grmolyes of the Frédéric Fekkai Salon in Los Angeles on which celebrity hairstyles are the perfect complement to your gown.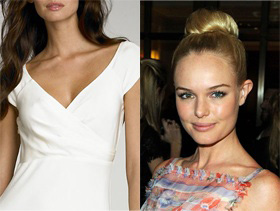 A classic wedding gown is simple, with clean lines and not a lot of embroidery or embellishment. Grmolyes says those who select this dress type should wear her hair up and off of her face in a "classic way," either swept into a simple bun or timeless French twist.
The Classic Gown: Bateau Neckline
Kate Bosworth's sleek high bun is the perfect complement to a classic gown and neckline that let your face take center stage. See which hair accessory to try with this 'do.
If your classic gown has more of a Queen Anne or portrait neckline, try this Jennifer Love Hewitt-inspired hairstyle.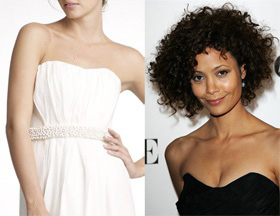 It often has flowy flourishes and is done in soft, billowing fabrics with plenty of embellishment and lace. Therefore Grmolyes suggests keeping your hair simple. "The idea is to look dreamy, with hair loose or to choose a style that is soft and sweet," she advises.
Romantic Gown: Sweetheart or Strapless Neckline
A romantic dress with bare shoulders will allow you to let your natural hair flow free and wild like Thandie Newton's, if you so choose. Her messy curls are effortlessly gorgeous and because they fall above her neckline, they show off her pretty collarbones and draw your eyes straight to her bust line and dress. See what Grmolyes says is the most important thing to do on your big day.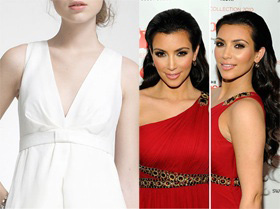 A modern style dress is for the chic, city gal who loves labels and asymmetrical lines. The best hairstyles to wear with these dresses are ones that look simple, "even though they may NOT be, they are so clean that it at least appears that way," says Grmolyes.
The Modern Gown: Asymmetrical Neckline
A slicked back, long and wavy style a la Kim Kardashian, looks elegant, yet stylish especially when paired with a graphic neckline. See why you should wear your hair off your face with this type of gown.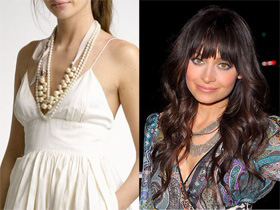 The perfect beach side wedding always calls for a flowy, ethereal gown with soft lines and sweet details. Grmolyes loves creating light, pretty waves or loose, imperfect updos for brides desiring a laidback look -- something to match the feel of the gown and the chosen surroundings.
The Bohemian Casual Gown: V-neckline
Nicole Richie, the queen of bohemian-chic, shows that long, tousled waves look relaxed and gorgeous with a deep v-neck dress. See why this hair works for this particular dress.
• Are you a boho bride, but don't have long hair? You can still wear beachy waves. See this tutorial for short bridal waves.
• Get hot hairstyle advice and more tips for your best wedding hairstyle.
• Want in on a little beauty discount secret? See how to get great deals and exclusive offers on beauty products here.
• Keep up with the latest in beauty -- follow us on Twitter, add us on YouTube and friend us on Facebook.