Dove Skin Care and DWTS Have a New Rising Star

Posted by Sharon on May 24, 2011 at 03:25PM

Sure, you've watched in horror as Kirstie Alley was dropped by her partner on live TV and cried when hip-hop stud, Romeo was eliminated (who didn't enjoy his abs?), but did you know there's a new rising star in Dancing with the Stars (DWTS) this season?
That's right, during the season finale, a new dancer will be making her debut showcase to the world on national TV. Her name is Kristi Herman. She's 36-years-old, and in truth, she's a dancer masked under her daytime occupation as a website project manager in Jersey City.
Melding the two worlds of skin care and dancing together, DWTS and Dove Skin Care teamed up to give one lucky woman a chance to fly out to LA for a week to learn the Cha Cha that will air during DWTS' season finale. In Dove's Close-Up Challenge, they asked women everywhere to unmask the true dancer that lives within them and submit a video showcasing their hidden talent and great skin -- provided by Dove's new VisibleCare Crème Body Wash, $7.99. With their highest concentration of NutriumMoisture yet, these body washes promise to make skin softer, smoother and spotlight-worthy.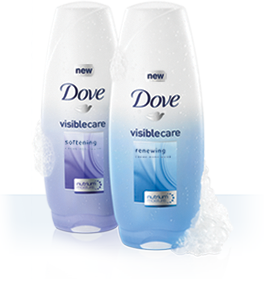 The winner of the challenge was Kristi and I got a chance to swing by her dance sessions to see how things were going during her 5-day long training in Hollywood. Check out my Q&A with Kristi below.
TB: In your opinion, what was it about your video that made it stand out among the other submissions?
KH: I think my video was creative, fun, and it showed that I had a passion for skin care and a love for dancing.
TB: Do you have a background in dancing?
KH: No background! As a little girl I had some ballet classes, and as an adult I love DWTS, so I decided to take some ballroom dancing lessons.
TB: Wow, after watching DWTS?
KH: Yes, I was really inspired -- I'm a huge fan.
TB: How do you feel about winning?
KH: I feel honored that Dove chose me for this experience.
TB: Are you excited to be on TV, how is the experience so far?
KG: It's overwhelming. I feel good and it's fun, but at the same time I'm nervous and excited. The whole process has been great since the beginning. All the people that I've been working with are so nice and supportive. I've really enjoyed it.
TB: Have you been using Dove's Body Wash?
KH: Yes, I've been using the VisibleCare Body Wash by Dove and it's making my skin look amazing -- so soft, silky, and smooth. And it feels great.
TB: Have you seen an improvement in your skin?
KH: Absolutely. I've definitely seen an improvement in my skin since I started using it. I've always had soft skin but it just looks even more incredible now.
TB: And is it providing you a boost of confidence come filming time?
KH: It does make me feel very confident. All I have to focus on is the dance steps. I know my skin is taken care of with the Dove body wash.
TB: That's great, and how's the dancing going?
KH: It's so much fun. It's a lot of work. It's a lot to think about. There are so many parts to all the steps. It's just a lot.
TB: I was watching you practice earlier, you were great.
KH: Thank you so much!
TB: Today is Day 3, how much of the dance have you learned so far?
KH: The whole thing, so the next couple days are about refining the steps.
TB: On DWTS there are always so many injuries to the performers -- have you suffered any major injuries so far?
KH: I've suffered blisters on my feet, they're bandaged up. Aside from that I'm feeling great. It's just my feet that hurt.
TB: Are you practicing in heels 24/7?
KH: No, I have to switch, I don't know how they do it on the show. It's really tough. I have a lot of sympathy for their feet.
TB: Your dancing partner is Damien Whitewood from DWTS. How is that going?
KH: He's great, he's such a great teacher. Right away he put me at ease, I was a little bit nervous about the dancing, but he made me comfortable.
TB: What do you do when you're not dancing in Jersey?
KH: I work in the financial industry as a web project manager. I work a lot. I don't have that much free time and in my free time I like to take pictures and I exercise a lot.
TB: What kind of exercising do you do?
KH: I like to run, kick box, I yoga … since I'm so close to New York there are so many great classes, so I like to experiment with different things.
TB: In addition to the dancing, we love seeing the glitzy dresses on the show. Who's doing your dress, makeup and hair?
KH: Yesterday we had a wardrobe fitting and we tried on a million different things. But I don't know which one we're going with yet.
TB: Are they all glitzy and glam-y?
KH: Oh yes, they're absolutely very fun.
TB: Would you normally wear something like that?
KH: Never! I would never wear anything like that in my normal life. So it's fun to be able to dress up and be all glamorous.
TB: It was a pleasure meeting you! We can't wait to see the dance air. Any last thoughts?
KH: I'm so excited about this opportunity. It's one of the most amazing experiences of my life and I'm just so thankful for it.
TB: Good luck!
Here are a couple shots of Kristi practicing with partner, Damien Whitewood.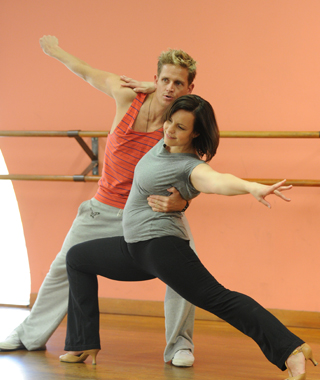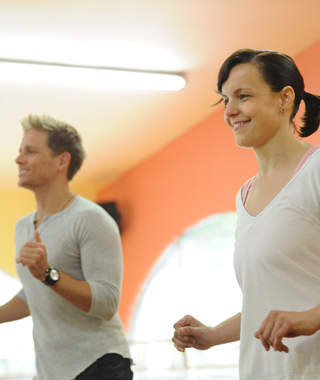 And a sneak peek shot of the upcoming dance that will air on May 23 during the DWTS season finale 8 p.m. PST. Don't miss it!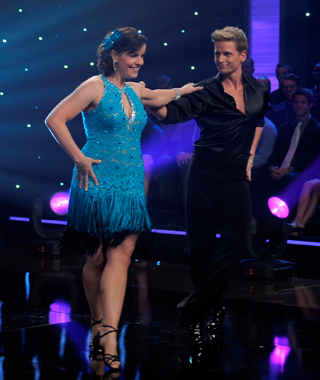 You can see the radiant winner's hilarious video submission here.
And, if you want to be ready for your daily close-up, we're giving away a year's worth of Dove VisibleCare Crème Body Wash to one lucky winner. Enter here now.