Belgian Teen Lied -- 56 Star Tattoos Are Her Mistake

Posted by Melissa on June 24, 2009 at 03:55PM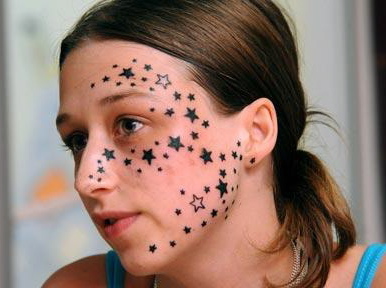 Talk about star struck! Those of you following the news may have heard that 18-year-old Belgian Kimberley Vlaeminck claimed she fell asleep while a tattoo artist gave her a whopping 56 unwanted star tattoos on the entire left side of her face -- but she lied!
She now admits that she asked for every single star -- and was pleased with the result -- until her dad saw it and freaked out. So she blamed the artist and tried to sue, but admitted to her lie on Tuesday. Cleary, Vlaeminck has some serious regrets about the permanent embellishment on her face.
That's why I LOVE makeup! You can change your look any time you want ... without the serious regrets that can come with something permanent.
With makeup, you can even attain a drastic look that will make a statement. Check out our Halloween how -to videos, they work all year round! This glamorous mask look was achieved just with makeup! Or, for a glimmer better than some star tattoos, try the twinkling fairy look.
That's not to say we're anti-tattoo here at Total Beauty. What do you think of these celebrity tattoos? What sweet ink do you have? Would you ever consider something like Vlaeminck's design?