3 Beauty Things You Should Never Do on a Plane ... and 3 You Should

Posted by Sarah on June 28, 2011 at 11:09AM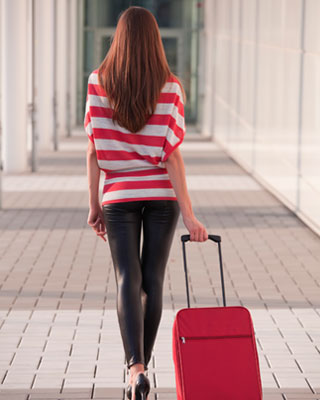 It's officially summer, and if you're lucky you'll be jetting off on vacation any day now. I, however, will be living vicariously through you while I'm chilling in my backyard wearing one of these face masks.
Before you board for greener pastures/bluer oceans, check out these "beauty etiquette" dos and don'ts for flying. There's always that one person on the plane who ignores them, but let's make sure it's not you, OK?
Do Not: Use any products with fragrance.
I know, your signature scent is your calling card and you always get so many compliments on it. But have some mercy on your fellow passengers and wait until you're through baggage claim to spritz.
Think about it: you're going into an enclosed space, breathing re-circulated air, and sitting centimeters away from people for hours. Even the lightest scents will be very noticeable and potentially annoying for your seatmates. Plus, many people have allergic reactions to fragrance -- do you really want to be the girl that sends someone into an allergy attack at 30,000 feet? Awkward.
Do: Shower before any flight.
If you've bathed recently, then you shouldn't need any perfume or fragrant lotion to cover things up. A little soap and shampoo should be enough to keep you from being the "smelly kid."
Do Not: Extensively groom yourself.
I can kind of understand the thought process on this one. You're stuck somewhere for hours with nothing to do, why not use that time to get a little grooming done? Do your nails, brush your hair, try out that new smoky eye trick?
But here's the thing: almost all of that stuff falls under either the "rude" or "gross" categories. Anything that involves shedding body parts -- nail filing or trimming, eyebrow plucking, etc. -- is just too disgusting for words. Do you want to sit on someone's trimmed fingernail? Yeah, that's what I thought.
The hair and makeup touchups are a little less egregious, but you still need to keep your seatmates in mind. If your arms/elbows are all over the place as you try out a variety of sexy ponytails, at best you'll get some eye rolls from your neighbor and at worst you'll spill their complimentary Coke all over them. Not cool.
Do: Apply moisturizer and lip balm.
Simple things like applying (unscented) moisturizer and lip balm are not only totally acceptable, but necessary. By the time you land, the dry plane air can leave you looking like Amy Winehouse on her way to rehab. So go on the offensive with products like Clinique Moisture Surge Extended Thirst Relief, $38 and Burt's Bees Lip Balm Tin, $5.
Don't: Skip the plastic bag for your liquids.
True story: I once got stuck in the security line behind a girl who couldn't fathom why she wasn't allowed to bring her Costco-sized shampoo and conditioner in her carryon. Said girl also had a full makeup bag and enough skin care products to give everyone in line a facial. I think you can see where this is going … security made her trash everything that wouldn't fit in a plastic baggie. She painstakingly sorted through her arsenal while the collective blood pressure of everyone behind her rose.
Do: Pack smart and travel light.
Since we're all forced to cram our liquids in a plastic baggie, or pay the checked bag fee, it's crucial to put some thought into what you're bringing. Here are a few tips:
• Swap out the liquids for powders/solids whenever you can. Use mineral foundation instead of liquid, and travel-sized bars of soap instead of your body wash.
• Buy a set of travel-sized plastic bottles. This set from Target lets you bring smaller amounts of all your favorite products.
• Use your vacation as a chance to try new (travel-sized) products. Websites like 3FLOZ.com have tons of kits and products all in, you guessed it, 3 oz. sizes. You can stock up on your favorites or check out a new brand's travel kit.
• Use your travel buddies. See what products you can share, like toothpaste, soap, etc. and if anyone has extra space, take it. For example, my husband can survive with a tube of toothpaste and a mini bottle of hair gel, so the rest of his plastic bag gets taken up with my lip glosses and mascara. True, he gets a few odd stares from the TSA agents, but it's worth it to have everything we/I need.