11 Gorgeous DIY Wedding Hairstyles

Posted by Sarah on May 18, 2009 at 05:36PM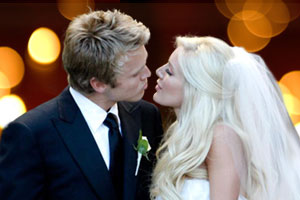 Dude, planning a wedding is freakin' expensive. Between the flowers, the band and those little favor things you just have to give away, it all adds up into one debt-inducing mess.
However, there is one (admittedly small) way to cut costs: do your own wedding hair or have a friend do it. It's actually really easy, especially with these step-by-step directions. With a little practice, and a lot of hairspray, you'll look like you spent all morning in the salon; only you and your bank balance will know the difference.
Don't see your dream style in the gallery above? That's OK, we have tons more looks (with how-tos!) to choose from:
Need makeup inspiration too? We've got your back -- er, face.