Quiz: Find Your Best Smoky Eye Look
Answer these questions to learn how to create the best smoldering eye makeup look for your unique eye shape
If you haven't been living in a beauty-barren hole for the last couple of seasons, then you already know that smoky eye makeup is back with a sexy vengeance. The look itself has been around forever, well at least since the advent of makeup. We all remember seeing Cleopatra painted with her legendary black and smudgy eyeliner during field trips to the museum, right? And we, of course, have even less vintage memories of the iconic Bridget Bardot redefining sex appeal in the '60s with inky cat eye makeup. The smoky eye makeup trend goes in and out of style, but it's definitely a classic eye makeup look that has true lasting power -- thanks to reinvention and creativity.

While smoky eyes parade down many runways nowadays and are the number one style for celebrity makeup on the red carpet; it's not always the easiest eye makeup look to accomplish for every eye shape. That's why we caught up with Joanna Schlip, celebrity makeup artist to stars like Eva Longoria and Christina Applegate, to get the basics on how to create this seductive eye makeup look on any eye shape. But before you learn the basics, you need to do two things. First, set the stage for dramatic eye makeup:

•Before applying shadow, prime your lids with a great base (try Urban Decay Primer Potion, $18). Once applied, it will make your look really last.

•Apply foundation to even out your skin tone, which will allow your eyes to get all the attention.

•Wear blush and lipstick shades that fall into the peach or nude family to keep your look wearable. Don't rock too many bold colors at once -- that means NO red lipstick or heavy blush. Your eye makeup should steal the show.

And second, grab a hand mirror and take this quiz to determine your eye shape and then learn how to create the smoky eye for your shape.


Your Results
Quiz: Find Your Best Smoky Eye Look
You Likely Have Almond Shaped Eyes, So Here's How To Get Your Ideal Smoky Look:. An almond eye shape is considered to be the most common and easiest to enhance. To play up this shape, Schlip recommends "a beautifully angled outer corner" to really kick up the drama. To create this smoky look, she recommends the following tools and products:

•Three shades of eyeshadow in a light, medium, and darker tone. To make this easy, Schlip uses an eyeshadow palette so she doesn't have to fumble with multiple compacts. Try Physicians Formula Shimmer Strips Custom Eye Enhancing Shadow & Liner, $11.95. For a daytime smoky day look stick to mauve and bronze shades, but for nighttime, turn up the heat with black and gunmetal.
•Two brushes -- one fluffy brush and one small, stiff brush.
•An eyelash curler. Schlip loves the Shu Uemura Eyelash Curler, $19.
•Liquid Eyeliner, try the top-rated It Cosmetics Liquid Gel Eyeliner, $20.
•Mascara -- check out our editors' favorites and the highest-rated drugstore mascaras to find a new fave.

Application technique:
Step 1: Use your fluffy brush to sweep your entire lid with the medium shadow shade.
Step 2: Next, use the small, stiff brush and apply the darkest shadow on the inner corners of your eyes -- at your lashlines only. Continue sweeping that color across your eye, and blend it upward (towards your creases) as you reach the outer corners of your eyes. The outer corners are the only part of your eyes where the eyeshadow will go into the crease.
Step 3: Pick up the fluffy brush and blend the shadows you've just applied to soften them.
Step 4: Dip your fluffy brush into the lightest shadow shade and blend it from your creases to your browbones.
Step 5: Line your top lashes with the liquid liner and bottom lashes with the darkest shadow.
Step 6: Finish by curling your lashes and applying two to three coats of mascara.

Exceptions:
If your eyes are small ...
Make your eyes appear appear larger by using medium and light shades only, says Schlip. "Just sweep a medium-toned shimmer shadow on the lids and a lighter shimmery color up into the browbone." For liner, "I like to extend the liner past the eye shape and smudge [it] into the shadow with a small stiff brush or a Q- tip," she says. "A flesh toned or white eyeliner can be used on the wetline [or inner rims] here to make eyes really look bigger and pop."

If your eyes are far apart ...
To make your eyes appear closer together, Schlip recommends keeping the darker shadows focused on the inner corners of your eyes. And avoid extending your liner beyond your outer corners.

If your eyes are close together ...
To make your eyes appear further apart, apply "white shimmery shadow" with a small brush to the inner corners of your eyes," says Schlip. Then, when applying your liquid liner, apply it in a very thin line at your inner corners and extend and thicken the line as you reach your outer corners "to draw [your] eyes outward," she says.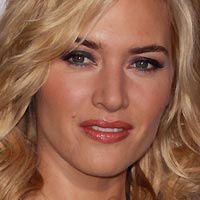 -->