Quiz: Is Your Eye Cream a Rip-Off?
Pinpoint the right ingredients for dark circles, puffiness and wrinkles
We tracked down dermatologist Dr. Heidi Waldorf, aesthetician Olga Lorencin-Northrup and natural skincare specialist Liz Earle to help identify the most effective ingredients to address your eye-area concerns. So whether you're ready to dump your current eye treatment or still testing the water, take this quiz to find out whether your product fits their recommendations.
Your Results
Quiz: Is Your Eye Cream a Rip-Off?
Your key ingredient: eyebright.
Aesthetician Olga Lorencin-Northrup, owner of Kinara Spa in Los Angeles (and TotalBeauty.com expert panelist), says dark circles aren't preventable with creams. "Some amount of kojic acid could lighten circles but that's only if the area is discolored. Most of the time, [the cause] isn't discoloration but fluid retention." she says.
But natural skincare specialist Liz Earle, co-founder of Liz Earle Naturally Active Skincare, swears by eyebright. "Eyebright is rich in natural tannins that help to tone and temporarily tighten the skin," she says, adding that the alpine herb can help reduce dark shadows and has been used by medical herbalists for centuries to treat eye disorders. (If your product doesn't contain this ingredient, try Korres Natural Products Firming Eye Cream, Eyebright, $38.50, or Liz Earle Eyebright Soothing Eye Lotion, $8.50.)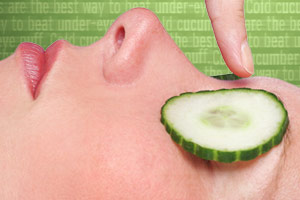 -->