Hair care
8 Best Hair Oils -- And Why You Need One

Using a hair oil will completely change your hair care routine forever -- no exaggeration. Here's everything you need to know about the best hair oils out there
Conventional wisdom dictates that hair and oil go together about as well as water and oil. As in, not at all. Even the words "hair" and "oil" conjure a greasy, un-showered, un-stylable mess, that most of us work very hard to avoid.

What then, is the deal with hair oils, those products that are intended to be deliberately applied to your hair? Who on earth would encourage such a slippery, slimy practice?

Skip ahead to see the best hair oils.

The experts, that's who. Pros say that it's high time we ditched our ill-conceived notions about hair oils, because there's a new generation of lighter, multi-faceted products that do anything but render your hair into an oil slick. "Hair oils have come a long way," says Kattia Solano, owner of Butterfly Studio Salon in New York City.

The best hair oils are multitasking miracle products that can do the job of your leave-in conditioner, styling cream, frizz serum, and shine spray in one. "They're styling products more than they are treatment products," she says.

When you're using a hair oil to style your hair, Solano suggests applying it from ends to mid-length to avoid the oily scalp pitfall. She also stresses the importance of starting with a small amount until you know exactly how much your hair needs -- you can always apply more. Once you get the hang of it -- and toss the seven other hair care products that are taking up valuable bathroom real estate -- you'll wonder how you ever lived without hair oil in the first place.

While new hair oil products are hitting shelves every day, these are the eight (L'Oreal, Kerastase, Ojon and Josie Maran, to name a few) best hair oils that caught our eye.

SEE NEXT PAGE: Kérastase Elixir Ultime, $54
VIEW AS ONE PAGE
Even though the original is plenty amazing, Kérastase just launched three new versions, each for specific needs. First, there's Elixir Ultime Rose Millénaire -- an oil so light it feels like water -- for fine hair. Then, there's Elixir Ultime Moringa Immortel, which has bonus calcium, iron, and magnesium for damaged hair. And finally, there's Elixir Ultime The Imperial, which has Imperial Tea for extra UV protection for color-treated hair. We sense even more swooning happening soon.
L'Oréal Professionnel Mythic Oil, $32
We try not to be swayed by pretty packaging -- waiting, instead, to judge products on how they perform. However, when these beautiful bottles of Mythic Oil hit our desks, we couldn't help but fall in love with the pretty Moroccan designs. Fortunately, you
can
judge these hair oil bottles by their covers -- they work! There are four versions: Rich (for thick hair), Colour Glow (for colored hair, obviously), Nourishing (light enough for everyone), and Reinforcing Milk (for detangling).
Got2b Oil-Licious Styling Oil, $5.99
If frizz and static are your main concerns this time of year, you'll love this hair oil. It's a blend of argan, Marula, and white grape seed, and it can be used on damp or dry hair. We suggest rubbing a few drops between your palms after you heat style, and smoothing it over flyaways and ends. Your hair will look great even
after
you pull off your wool hat.
Ojon Rare Blend Oil, $35
Don't be fooled by the mesmerizing layers of color -- this is a serious hair oil. The red oil is from the Ojon nut, and it's high in antioxidants. The clear is Tahitian Monoi oil (coconut infused with Tiare flower), which smells like tropical heaven and protects the hair. And the yellow is Kukui oil, an impressive hydrator. All you need is a few drops of this hair oil -- use it wet or dry -- for impressive results. (Shiny, soft, frizz-free hair -- you know the drill.)
Avon Advance Techniques 360 Nourishing Moroccan Argan Oil Leave-in Treatment, $12
We especially love this hair oil for its texture -- it's more like a skin care serum than traditional oil, which makes it perfect for the oil-phobic or those with fine hair. You can apply this hair oil to damp hair for heat protection or dry hair to disguise fried ends, and it's hard to overdo it.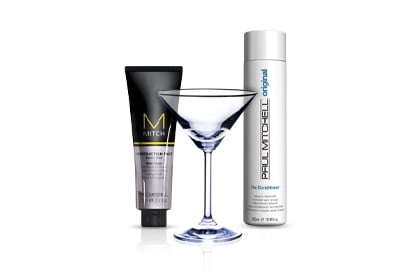 How to Mix Your Styling Products
Now that you've found your best hair oil, check out
which products work well with it
.
Back
to top