Posted by Total Beauty 08/03/12 at 02:36PM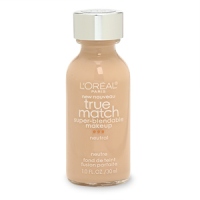 While it's great that foundation now comes in a million variations, finding the exact right match for your skin tone is still incredibly daunting -- especially at the drugstore. Am I a Nude Beige or a Natural Beige? Or perhaps a Caramel Beige? It's enough to throw in the towel and go barefaced. But now the makers of L'Oreal are bringing the professional assistance of the makeup counter to a drugstore aisle near you!
Tomorrow, August 4th, 7,000 Walgreens stores are teaming up with L'Oreal Paris to offer personalized consultations from top beauty advisors, so you can find your True Match. Plus, you'll also be able to buy your True Match Foundation at a discounted price of $7.99. Professional help at a drugstore price? What more could a girl need?
What: Get Matched Event
Where: Walgreens retail stores
When: Saturday, August 4th, 10 a.m. to 5 p.m.