Posted by Total Beauty 08/06/12 at 02:16PM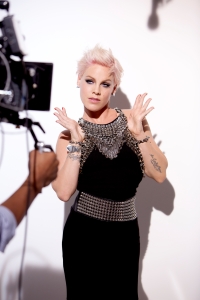 Get excited because CoverGirl is introducing a bit of edge to the beauty scene.
The makeup brand just announced its newest face: the risk-taking rocker mom, Pink. Joining celebrities such as Sofia Vergara and Ellen DeGeneres, the newest (and possibly the coolest) CoverGirl is daring women everywhere to take more chances with their beauty routine. Along with the launch of her new album, "The Truth About Love," Pink says she's thrilled about this new partnership, saying "I'm so excited to show women everywhere that they can let their freak flag fly!"
In the months to follow, Pink will be the face of CoverGirl's new mascara and a few more makeup debuts. After seeing the awesome lavender eyeshadow the singer wore at the brand's press event this morning, we couldn't be more excited to find out what's coming next.