Posted by Cinya Burton 06/17/18 at 07:08PM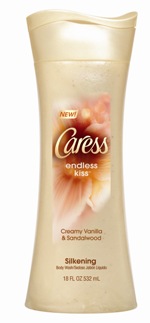 In case you had any doubt about the link between fashion and fragrance (or
body wash
, for that matter), Caress has teamed up with celebrity stylist June Ambrose to spread the word. For the launch of the new Caress Endless Kiss Silkening Body Wash, Ambrose will be answering fashion and beauty questions directly on Caress's Facebook page (facebook.com/caress).
We caught up with Ambrose to find our her philosophy on the relationship between your scent and your style. "For me, a sophisticated scent inspires my mood and affects my clothing choices," she says. "It all starts in the shower -- I'd rather pick out clothes feeling refreshed and invigorated."
Of course we couldn't help getting a few fall fashion tips from her, as well. She says you can still wear your summer neons (clothing, nails, etc.), but pair them with neutral camel and nude shades. And if you're only going to buy one piece for the season, it should definitely be a biker jacket. "Even if you're a classic girl -- it will look fresh," she says. And, of course, the scent of the leather will pair perfectly with the musky Endless Kiss.